Brief Introduction of Huaqing Palace
Huaqing Palace (Huaqing Hot Spring & Lishan Mountain) is located about 30 kilometers away from the east of Xian City. It is built on Lishan Mountain in Lintong, used to be an imperial palace as the winter resort for emperors' short stays away from the tedious government affairs. And now, it has become the first batch of National 5A-class Tourist Attraction, National Key Cultural Relics Protection Site and National Cultural Industry Demonstration Base.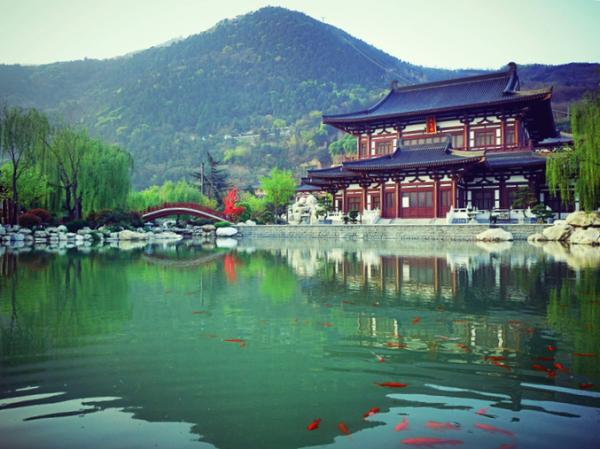 History of Huaqing Palace
The Huaqing Palace gains its reputation for being the place where famous historical stories happened, such as the ridiculous story of King You of Zhou tricking the marquesses with beacon fires to see his queen (Baosi) crack a smile; the romantic love story of Tang Emperor Tangxuanzong and his beloved Noble Consort Yang (Yang Guifei); the world-shaking 1936 Xian Incident. Hence, lots of historical sites and cultural treasure.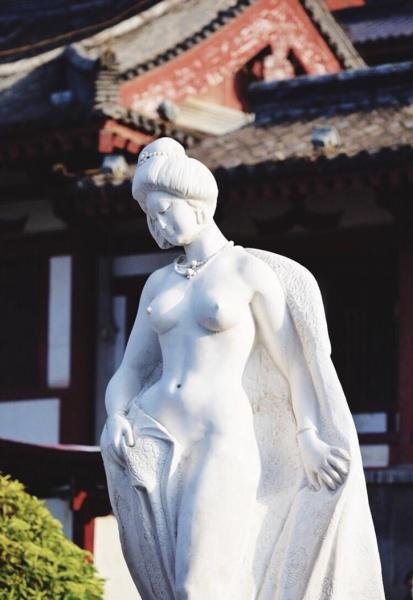 What to See
The Huaqing Palace's natural beauty and profound cultural background will let visitors enjoy a visual and spirit feast, and feel good value for money, a worthwhile trip.
Tang Dynasty Imperial Hot Spring Relics Museum (唐御汤遗址博物馆)
Discovered in April of 1982, five imperial hot spring sites were brought to light after three years' excavating on an area of 4600 square meters. They are Lotus Pool (Emperor Tang Xuanzong's private bathing pool), Haitang Pool (Emperor Tang Xuanzong's beloved Noble Consort Yang Yuhuan, also named Guifei Pool, which looks like a Chinese flowering crabapple.), Star Pool (It was said that it has no roof, so when one bath here at night, he/she can enjoy the numerous sparkling stars and bright moon.), Shangshi Pool (for the officials) and Prince Pool (for the prince).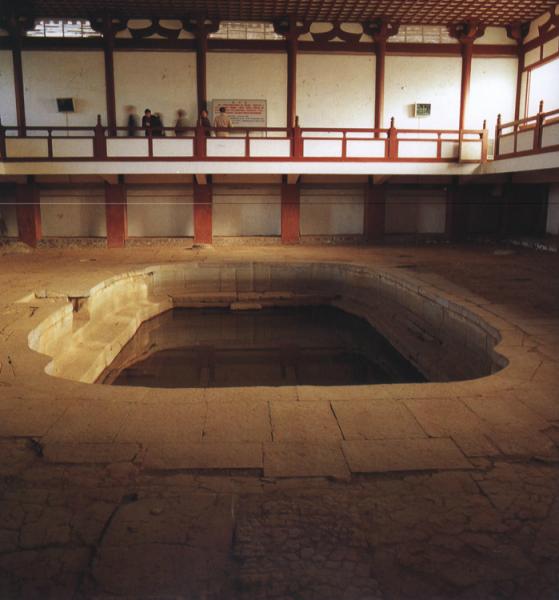 Xi'an Incident site - Five Rooms Hall (西安事变旧址——五间厅)
Just as the name indicates, Five Rooms Hall is a brick and wood building joint by 5 single halls. It used to be Empress Dowager Cixi's shelter when the Eight-Power Allied Forces invaded China in 1900, the temporary residence of Chiang Kai-Shek (the leader of China Nationalist Party) during the world-shaking Xian Incident in Dec. 12th, 1936, which you still can see many bullet holes left on the walls and windows.

Nine Dragons Lake (九龙湖)
Nine Dragons Lake is an artificial lake built in 1959, covers an area of about 5300 square meters. The lake gets its name because of a Nine Dragons Bridge stretching across the lake, which has 8 dragons spitting water over the bridge and 1 dragon under the bridge. It is divided by the Nine Dragon Bridge into 2 lakes – the upper lake which equipped with modern fountain facility and the lower lake features dragon-shape boat. Along the lake, various Tang-style palaces and pavilions like Chenxiang Palace, Feishuang Palace, Yichun Palace, Longyin Pavilion, Chenxi Pavilion, Wanxia Pavilion, etc., dragon-shaped stone boat and winding corridor can be seen here and there. These architectures with red as the theme colore and green pines, weeping willows and lawns make the scenery here are so pleasing to look at.

Furonghu Lake Scenic Spot (芙蓉湖风景区)
Furong Garden - an imperial garden built base on the love story of the Emperor Tang Xuanzong and Noble Consort Yang Yuhuan in Huaqing Palace as the theme, which comprise more than 10 landscapes including Palace of Eternal Life (长生殿), Hot Spring Goddess Pavilion(温泉神女亭), Debao Building (得宝楼), Guolao Medicine House (果老药堂), Royal Tea House (御茗轩), Furong Lake(芙蓉湖)and so on.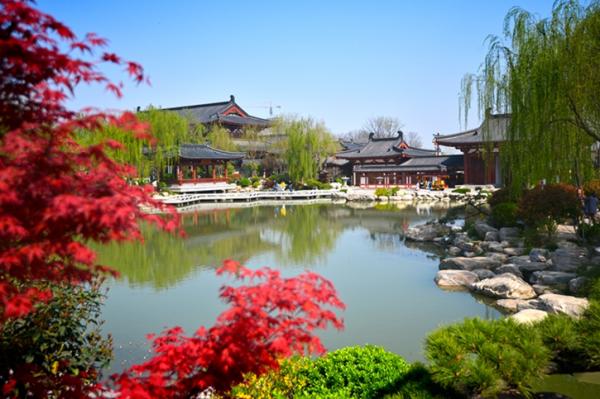 Tang Dynasty Pear Garden Relics Museum (唐梨园遗址博物馆)
Pear Garden, also called Li Yuan, is created by the Emperor Tang Xuanzong, which is the first royal art school of music, dance and opera in Chinese history. So many beautiful tunes and dances were created here, including the long-lost one – Ni Chang Yu Yi Qu (霓裳羽衣曲). The Pear Garden is regarded as the founder of Chinese opera arts.

Performances in Huaqing Palace (演出节目)
The Song of Everlasting Sorrow – Chinese First Large-scale Historic Drama
A sweet and sorrow legend of love happened in Huaqing Palace at the foot of the Lishan Mountain more than 1000 years ago.
Ticket Price
Eastern and western areas: CNY 238/268
Central area: CNY 298
VIP area: CNY 988/888/588
Tips: Free for children under 1.3 meters (4.3 feet) not occupying a seat.
Show Time
Only available from Apr. to Oct. Each show lasts 70 minutes.
Single Performance: 20:30-21:40
Double Performances: 20:10-21:20; 21:40-22:50
Tips: The performance might be canceled due to extreme weather. Please refer to the latest notice inside the scenic area.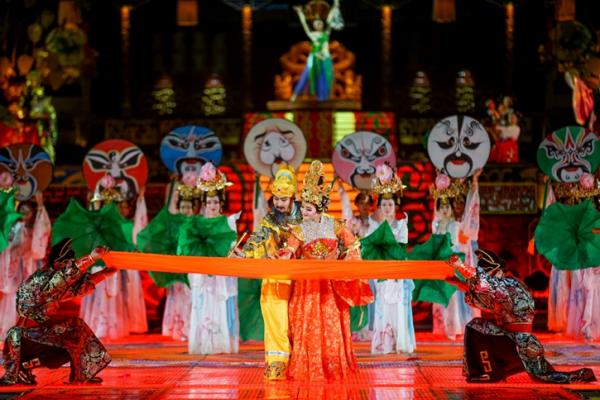 12.12 Xi'an Incident – A Drama Vividly Reproduces the Real History of Xi'an Incident
An event happened in Huaqing Palace 83 years ago that changed the modern history of China.
Ticket Price: CNY169
Show Time (Five Performances):
The 1st Show: 09:50
The 2nd Show: 11:10
The 3rd Show: 14:00
The 4th Show: 15:20
The 5th Show: 16:40

Enjoy a SPA in Huaqing Palace Resort (享受一场SPA)
The Huaqing Palace Resort & SPA provides high-end quality rooms which keep the unique artistic characteristics of Tang Dynasty and imperial bathing culture. Relax yourself in the 6000-year hot spring of Huaqing Palace and the natural oxygen bar of Lishan Mountain, you will feel worthwhile to have a trip to Huaqing Palace while enjoy the royal cuisine with the characteristics of the flourishing Tang Dynasty and different kinds of Shaanxi local flavor snacks.

Experience a Tang Dynasty Wedding Ceremony (体验大唐婚典)
In the Huaqing Palace Scenic Spot, you will have an original Tang-style wedding ceremony, by wearing the gorgeous and graceful Tang-dynasty costumes. Especially in the Qixi Festival (Chinese Valentine's Day), it is so much meaningful. Of course, if you want to have a special Chinese style wedding or honeymoon, and experience the full ceremony progress, Huaqing Palace is your good choice.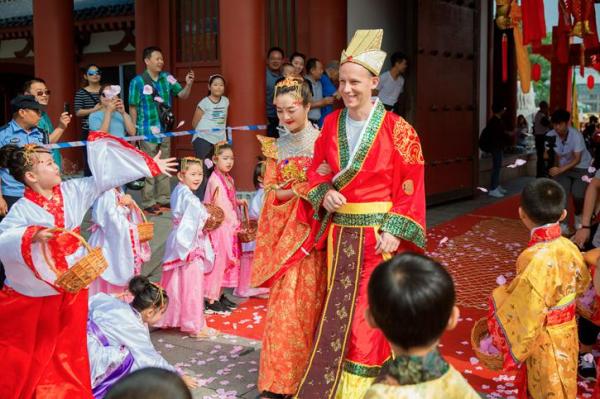 Join the Lantern Festival Party & Taste the Local Cuisine (参加唐宫灯会,品尝当地美食)
When the Chinese New Year comes, a Lantern Festival will be hold in the Huaqing Palace. While you participate in this interesting party, you can not only have a chance to know more about Chinese lantern knowledge, watch various Tang-style shows, but also taste the authenic Chinese traditional snacks, and retrieve the memories about the Spinng Festival and happy family time.

What's more, other landmarks like Wanshou Hall (万寿殿), Huan Garden (环园), Emperor Yu Palace (禹王殿) and the Book Wall of Song of Everlasting Sorrow ("长恨歌"书墙) also make Huaqing Palace famous to the world.

Besides, Lishan Mountain, with an elevation of 1302 meters, also provides various scenic spots to the visitors from home and abroad, such as Laomu Hall (老母殿), Laojun Hall (老君殿), Beacon Tower (烽火台), Remonstration Pavilion (兵谏亭), Shiweng Temple (石瓮寺) and Yuxian Bridge (遇仙桥). If you climb up to the top of Lishan Mountain, you will have a chance to enjoy the spectacular sunset (骊山晚照), which is one of the "Eight Famous Scenic Spots in Guanzhong Plain" (关中八景之一).

How to Get Here
By Bus
Take Tourist Bus 5 (306) or Bus 307, and get off at Huaqingchi Station.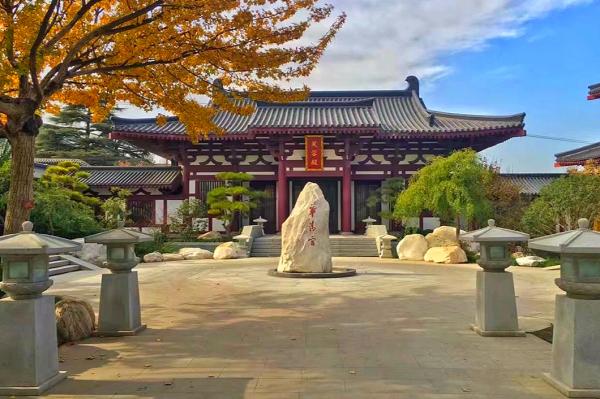 Opening Hours
Mar. – Nov.: 7:00 – 19:00
Dec. – Feb. of next year: 7:30 – 18:00

Ticket Price
Huaqing Palace Admission Fee (including Huaqing Pool & Lishan Mountain): CNY 120
Tips: Free for children under 1.2m (3.9ft); half price for student.
Travel Tips
If you have enough time, I highly recommend you to plan a combo tour of Terracotta Warriors and Horses. Both Huaqing Palace and Terracotta Army are on the same travel route from the city center of Xi'an, which can be combined to have one day trip.
More Attractions in Xi'an
Recommended China Tours Including Huaqing Hot Spring Xian