Tianzi Mountain (Tianzishan) is regarded as the top site to see sandstone peaks in high density. It is located in the northeast of Wulingyuan Scenic Area, covering 9,000 hectare with the highest altitude 1262.5 meters at Kunlun Mountain. The Tianzi Mountain Nature Reserve together with Suoxiyu Nature Reserve, Zhangjiajie National Forest Park and Yangjiajie Nature Reserve constitute Wulingyuan Scenic Area.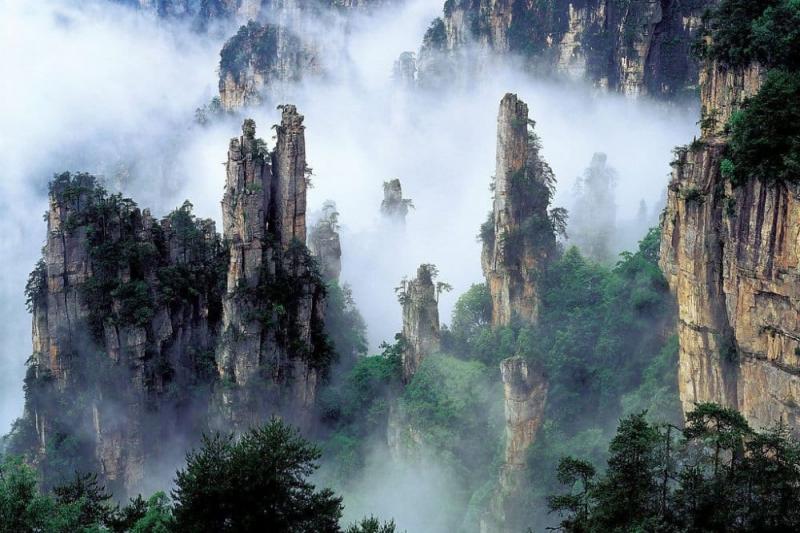 Tianzi Mountain was originally named Qingyan Mountain. It got its new name after the ancient Tujia leader Xiang Dakun who led the local peasant uprising and called himself "Tianzi" which literally means "The Son of Heaven". Located in the central region of Wulingyuan, Tianzi Mountain is higher than the surrounding area. Standing on the main peak of Tianzi Mountain, you have a wide field of vision, with rich layers of peak forest. Geologically, it can be divided into upper and lower parts. The part above 900 meters is the Permian argillaceous limestone. The part below 900 meters is Devonian primary sandstones and quartz sandstones. Due to the own development and long-term impact of external forces, the peculiar topography appeared. This kind of geological formation impresses tourists all over the world.
Tianzi Mountain has an annual average temperature of 12°C, an annual rainfall of 1,800 mm. There are around 240 days of frost-free. The best months for a trip to Tianzi Mountain Nature Reserve are April, May, June, July, September, October and November. Doing a Tianzi Mountain trip in Zhangjiajie in different season, you will be offered different kinds of natural view. If you are lucky enough, you will be able to enjoy scenic wonders of Tianzi Mountain, such as Cloud Sea, Sunrise, Moon Brightness and Winter Snow.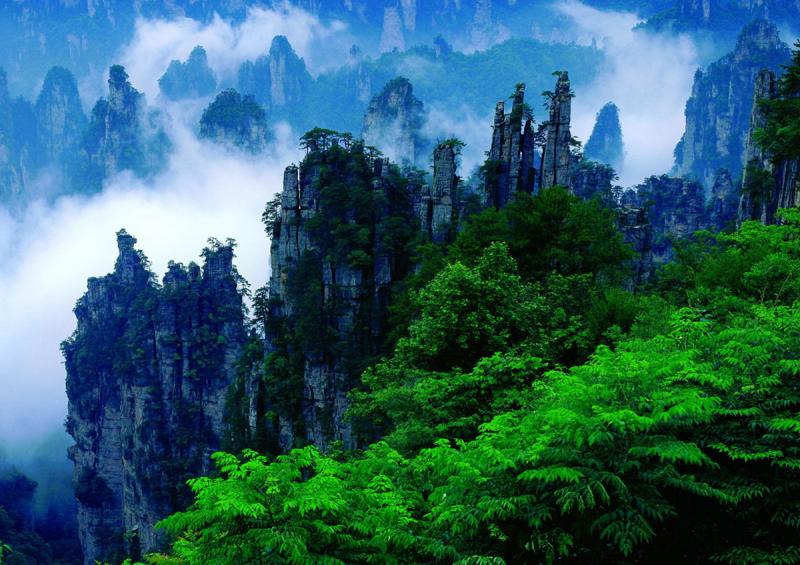 Tianzi Mountain Nature Reserve Facts
Chinese Name: 天子山自然保护区
Location: Wulingyuan Scenic Area, Zhangjiajie city, Hunan Province, China. 湖南省西北部张家界市武陵源景区.
Opening hours: 7:00-18:00 (latest entrance at 16:00)
How far from Zhangjiajie: 32 km.
Entry Ticket price: Included in ticket of Zhangjiajie National Forest Park which is RMB227 (valid for four days).
Cable cars price at Tianzi Mountain: RMB72/single way, RMB144/round way.
The most wonderful sights in Tianzi Mountain Nature Reserve
Tianzi Mountain Nature Reserve is known as the "king of the peak forest". The east, west and south sides are lined with pinnacles and peaks. This nature reserve includes several small scenic areas such as Shijiayan, Chapanta, Laowuchang, Yuanyang Creek, Huanglong Spring and Fengqi Mountain. Among these areas, here below are some of the highlights from each scenic area. Having this information in mind will help you a lot in planning your Zhangjiajie tour including the Tianzi Mountain Nature Reserve.
Cable Car Ride
The Tianzi Mountain Cableway is the second sightseeing cableway in Zhangjiajie after the Huangshizhai Cableway. It is the main transportation for tourists to enter the Tianzi Mountain Scenic Area. The cableway with a total length of 2091 meters can take 6 minutes at the fastest one way. A single cabin is 8 seats. The maximum carrying capacity is 2,100 people per hour. The cable ride of Tianzi Mountain greatly reduces the waiting time for tourists.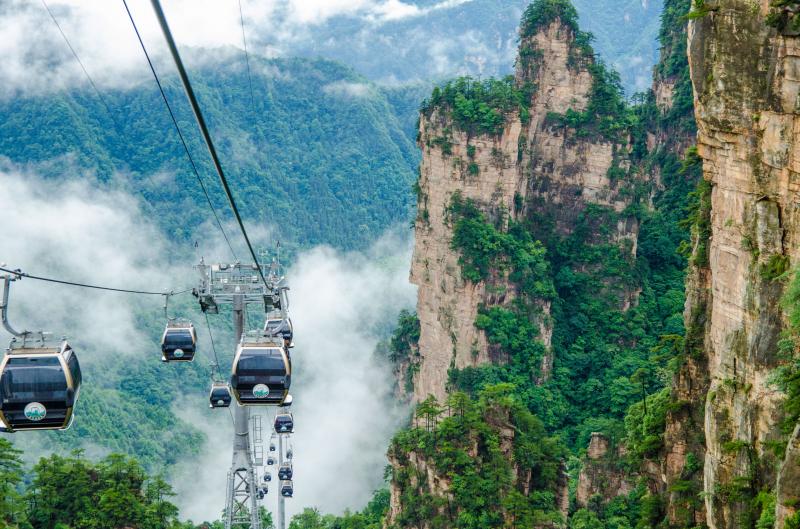 The Air Field
The Air Field (Aerial Pastoral) is located on the middle terrace of the Laowuchang scenic part of Tianzi Mountain in Zhangjiajie, facing Yuanjiajie Scenic Area across the valley, with an altitude of more than 1,000 meters. At the top of the cliff there is a terraced farmland with a large slope of 3 hectares. The edge of the terrace forms nice curves, making the paddy field natural and charming. The terrace field covers about 7 hectares, with rice growing inside. In spring and summer, the terraces are full of water, with different reflections on. There are more than ten families living in the nearby village. Decorated with green walls and black tiles, the view looks more vibrant and like a fairyland on earth.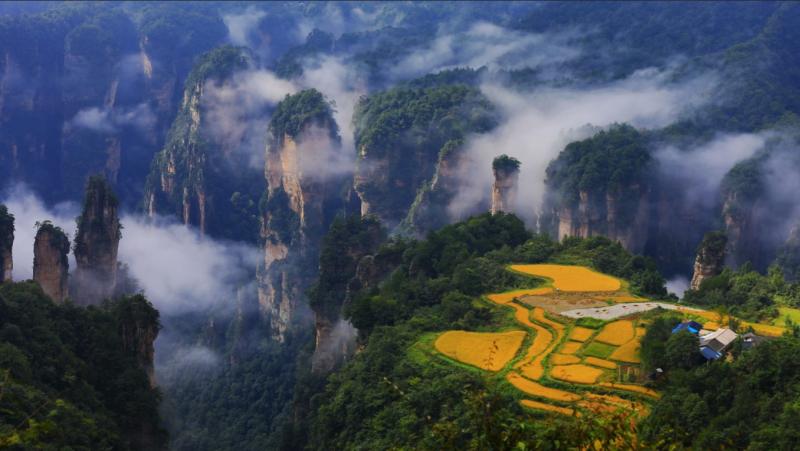 Dianjiang Terrace
Located in the deep valley surrounded by mist, the grotesque rocks resemble dozens of human figures. See, the "Emperor" is in the middle, and the "herald" in front is reading the imperial decree. The rest officials listen very carefully.
Yubi Peak (Imperial Writing Brush Peak)
Yubi Peak is one of the best scenic spots that fascinate photographers and painters. More than 30 pictorial magazines have once shown its image. Yubi Peak is located in a valley of Tianzi Mountain. Standing on the viewing platform, tourists enjoy a view where there are dozens of beautiful peaks in the valley protruding to the blue sky. Given more imagination, you will find that the peak on the right is like a brush pen, and the peak on the left is like a pen holder.
Tianzi Peak
On the southwest side of the Chapan Tower, there is a mountain with an altitude of more than 1,200 meters. This is the "Tianzi Peak". Tianzi peak looks like a sitting warrior, wearing iron armor, holding an arrow in his right hand, with thick eyebrows raised, and his eyes glaring forward, as if he was about to give the word to fight a battle.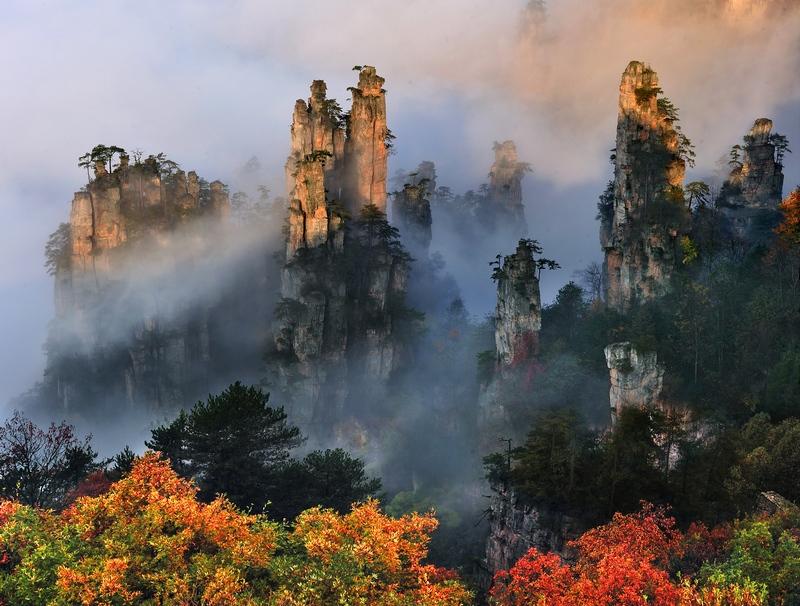 How to get to the Tianzi Mountain Nature Reserve?
From Zhangjiajie Hehua Airport: 1. Then take taxi or public bus No.4 to Zhangjiajie Centre Bus Station, and then take the tourists bus to Wulingyuan ticket station. Get in the park and take tourists shuttle bus to Tianzi Mountain cable car station. 2. Take taxi to Wulingyuan ticket station directly. 3. The most convenient and recommended way from airport to the park is taking the private vehicle service of Easy Tour China. Please book the service at least one day in advance.
From Zhangjiajie Bus Station: take the tourists bus to Wulingyuan ticket station. The journey takes about 40 minutes.
From Zhangjiajie Rail Station: from the exit of the rail station, walk to Zhangjiajie Centre Bus Station which is about 100m away. Take the tourists bus to Wulingyuan ticket station.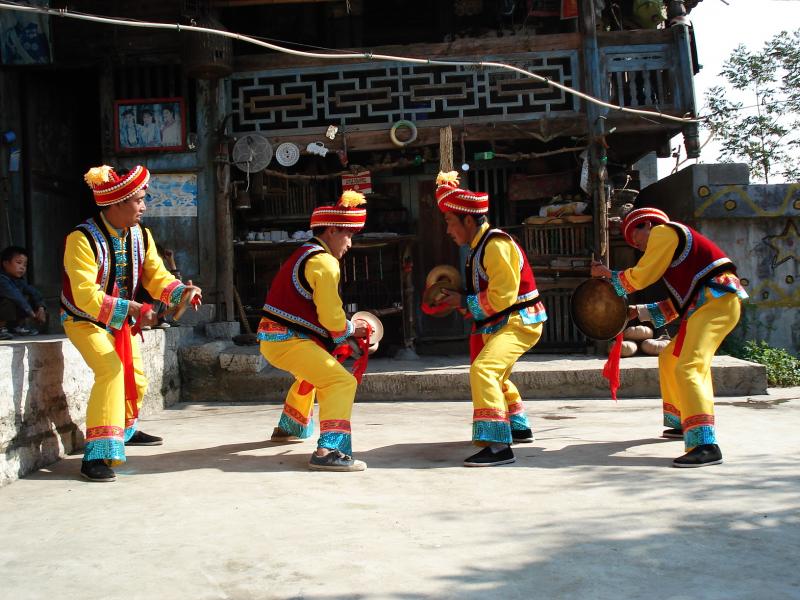 Travel Tips
1. It's very easy to get confused by the names of difference scenic areas in Zhangjiajie. So it's important to be clear about what is what, or just join Easy Tour China for your private guided Zhangjiajie tour.
2. Good walking and antiskid shoes always help.
3. Ready for crowds and queues before taking the Tianzi Mountain cable car especially in peak season.
4. Be careful of the wild monkeys. They sometimes rob tourists for food.
5. Restaurants in the park are basic and offer simple food. So take some snack as backup.
6. Shared shuttle buses inside the park can be used for transfer between different sites.
7. Ready for steps and moderate hiking.
8. Don't miss the latest cable car down which is at 18:00.
9. A tour guide is highly recommended.
More Attractions in Zhangjiajie
Recommended China Tours Including Tianzi Mountain Nature Reserve Zhangjiajie