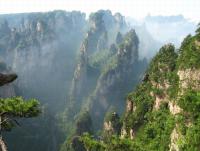 Located in the northeast of Wulingyuan Scenic Area, Suoxiyu Nature Reserve covers 25,400 hectare. It was granted as the nature reserve at provincial level in 1982. Sou-xi-yu means heavy-fog village in the language of Tujia people. Tourist could enjoy different and fantastic views here like caves, forests, valleys, cloudy sea, streams, etc. the major sceneries are concluded as following:
West Sea
Situated in the west of Suoxiyu Nature Reserve, it is a basin and gets together groups of canyons, peaks and forests. Mountains are shaped differently and forests luxuriate densely. The cloud spreads all the mountains and forests. West Sea features the sea of peak, forest and cloud.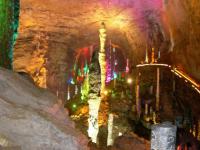 Baofeng Lake
It is an artificial lake after a dam was built on the river. The clear lake is surrounded by numerous mountains. Baofeng Lake is only scenic spot dominated by water in Wulingyuan Scenic Area. There are so-called "Four Wonder" of Baofeng Lake: lake, peak-waterfall, Yingwo Village and Yixiantian (narrow walkable leak between cliffs).
Yellow Dragon Cave
Yellow Dragon Cave is one of top ten caves in China. It is typical karst formation and system of limestone cave. The cave explored covers 100,000 square meters, 7.5 kilometers in length, 140 meters in height. It includes four layers, including two layers of waterways. There are reservoir, rivers, waterfall, halls, and passageways inside the cave. Tourists can enjoy another world in the cave.
More Attractions in Zhangjiajie
Recommended China Tours Including Suoxiyu nature reserve Zhangjiajie