Located in the northeast of Wulingyuan Scenic Area, Suoxiyu Nature Reserve covers 25,400 hectare. It was granted as the nature reserve at provincial level in 1982. Sou-xi-yu means heavy-fog village in the language of Tujia people. Tourist could enjoy different and fantastic views here like caves, forests, valleys, cloudy sea, streams, etc.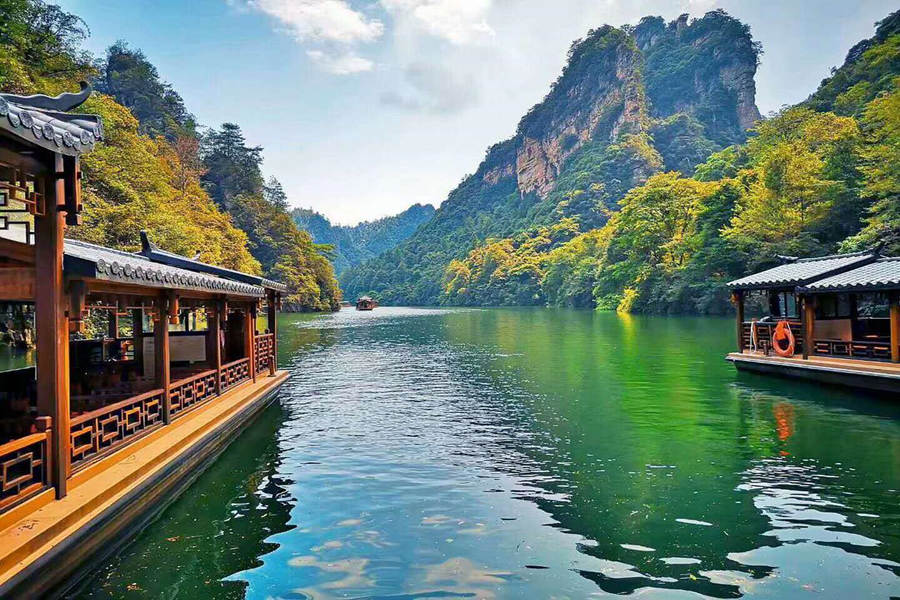 Suoxiyu Nature Reserve Facts
-Chinese name: 张家界索溪峪自然保护区
-Location: In the east section of the Wulingyuan Scenic and Historic Interest Area
-Total Area: 25,400 hectares
-Time needed: 1 day
-Entrance fee: It has been included in the ticket of Zhangjiajie National Forest Park
Best Time to Visit Suoxiyu Nature Reserve
From March to November is the peak tourism season in Zhangjiajie, spring and autumn are the best tourism seasons in Zhangjiajie. In spring, Zhangjia is like a paradise. The water of Golden Whip Stream is crystal clear, walking along the stream as if walk in a beautiful picture. In Suoxiyu Nature Reserve, Huanglong Cave and Baofeng Lake are good places to visit in Zhangjiajie. In autumn, the weather always fine in Zhangjiajie. The colors of all kinds of plants on the mountain began to turn red or yellow, the wonderful atmosphere and elevated views surely make a fantastic Zhangjiajie trip.
What to see at Suoxiyu Nature Reserve
Suoxiyu Nature Reserve is located in the east of Wulingyuan Scenic Spot, and closely connected with Tianzi Mountain, with a total area of 25,400 hectares and has more than 200 scenic spots. In addition, the scenic area has opened a number of vehicular and pedestrian trails, with a total length of 54.3 km and 9.4 km respectively. Suoxi Valley Nature Reserve is in the shape of a basin, it is high in the middle and low on all sides. Suoxi Valley is famous for its unique mountains, beautiful water, precipitous bridges and secluded caves. The main spots are Baofeng Lake, Yellow Dragon Cave, Baizhang Gorge, Ten-mile Gallery, Xihai Peak Forest etc. There is so much to see for your Zhangjiajie trip.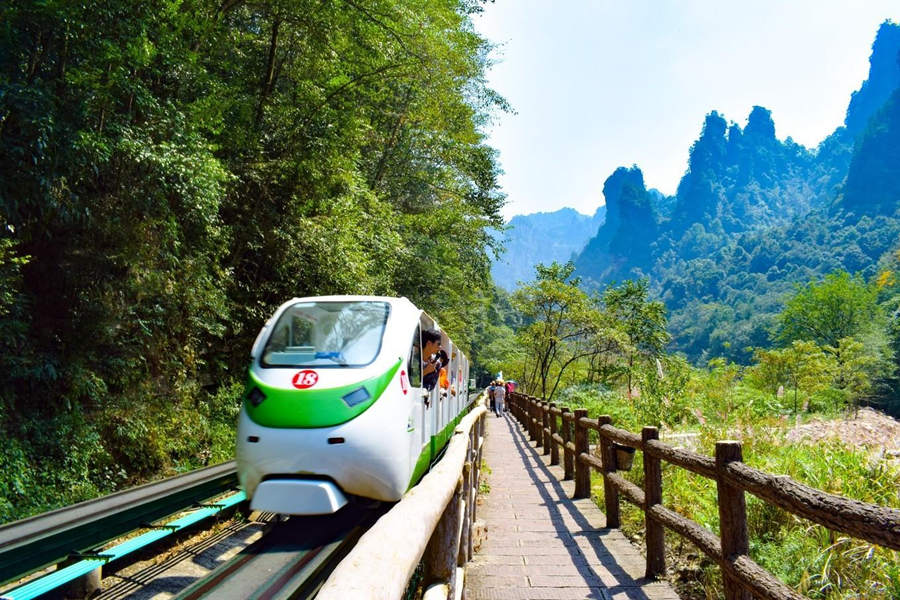 Major Suoxiyu Nature Reserve Attractions
West Sea
Situated in the west of Suoxiyu Nature Reserve, it is a basin and gets together groups of canyons, peaks and forests. Mountains are shaped differently and forests luxuriate densely. The cloud spreads all the mountains and forests. West Sea features the sea of peak, forest and cloud.
Ten-mile Gallery
Zhangjiejie Ten-mile Gallery scenic area is located in Suoxiyu Nature Reserve, it is a narrow gorge with a depth of 5.8 kilometers, which is the essence of touring in Suoxiyu Nature Reserve. On both side of the valley, there are abundant natural landscape resources, with strange peaks and rocks, forming vivid natural sculptures. Among those sculptures, the most famous are "Peacock spreads its tail", "The god of longevity greets guests", "The roaring fierce tiger" and so on. This sightseeing route provides two kinds of sightseeing experience: walking along the footpath and taking a small train. If you want to same energy, taking the small train to visit Ten-mile Gallery will be a good experience.
Baofeng Lake
It is an artificial lake after a dam was built on the river. The clear lake is surrounded by numerous mountains. Baofeng Lake is only scenic spot dominated by water in Wulingyuan Scenic Area. There are so-called "Four Wonder" of Baofeng Lake: lake, peak-waterfall, Yingwo Village and Yixiantian (narrow walkable leak between cliffs).
Yellow Dragon Cave
Yellow Dragon Cave is one of top ten caves in China. It is typical karst formation and system of limestone cave. The cave explored covers 100,000 square meters, 7.5 kilometers in length, 140 meters in height. It includes four layers, including two layers of waterways. There are reservoir, rivers, waterfall, halls, and passageways inside the cave. Tourists can enjoy another world in the cave.
Baizhang Gorge
Baizhang Gorge Scenic Area is located in the south of Suoxi Valley Nature Reserve, which composed of Baizhang Gorge, Dongjia Valley and Wangjia Valley. Baizhang Gorge located in the central section of Chaqi Vally where many apes were in ancient times, with precipitous cliffs and difficult terrains, it used to be an important pass in ancient times. The original stone path on the right side of the Gorge is the official road of the Ming and Qing Dynasties. After several years of development and growth, Suoxi Valley has developed into a large-scale tourist attraction.
How to Get to Suoxiyu Nature Reserve
Take bus to Wulingyuan(武陵源)at Zhangjajie Central Bus Station, which is close to Zhangjiajie Train Station. The driving distance is around 34 kilometers, and you can arrive in a hour. The bus ticket costs about CNY12 and it depart about every 15 minutes in the day.
More Attractions in Zhangjiajie
Recommended China Tours Including Suoxiyu nature reserve Zhangjiajie