Located at the east part of People's Square (Renmin Square) of Shanghai, Shanghai Urban Planning Exhibition Hall tells people the procedure that Shanghai becomes a famous international city from a small fishing village. The theme of this building is "City, People, Environment and Development". It exhibits the overall layout of Shanghai, especially the great changes and achievements that have taken place since the reform and opens to the outside world in 1978. Covering an area of 3,600 square meters, it is one of the world's largest showcases of urban development.
Shanghai Urban Planning Exhibition Hall combines tradition with modernity, highlights the use of high technology, and embodies the characteristics of comprehensive, open and public participation. It is a professional venue with rich connotation, complete facilities and comprehensive display of the image of Shanghai. Although its name sounds boring and make people lose interest, but it's ranked in the top 10 list among over 800 Shanghai attractions on Tripadvisor. If you curious about how Shanghai has developed so fast and changed into a metropolitan in a short time, you can find the answer in Shanghai Urban Planning Exhibition Hall, and you may also predict the future of this magic city.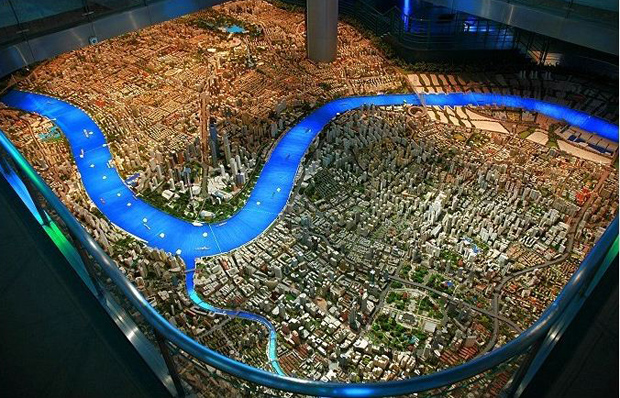 Facts
- In Chinese: 上海城市规划展示馆
- Address: No. 100 Renmin Avenue, Huangpu District, Shanghai
- Opening time: 09:00 – 17:00 (last entry at 16:00; closed on Monday)
- Ticket price: RMB30
Construction & Exhibition
The main body of Shanghai Urban Planning Exhibition Hall is a five-story building, which displays Shanghai's development from past, present and future.
The basement was built to appear like a street in old Shanghai, calling back people's memory to the passing time. The main feature of the first floor is a large revolving statue of some of Shanghai's most famous buildings. There are some movies and moving models which depict ancient Shanghai in the second floor. Many photos of old Shanghai and the buildings which still exist have photos representing what they looked like when new and what they look like now. They show how the city went from being just a small fishing village to a major world metropolis. The highlight is on the third floor. There is a city model made to a scale of 1/500, which features Shanghai's present. The model went through an entire day cycle from sunrise to night with all of the building's windows illuminated from inside.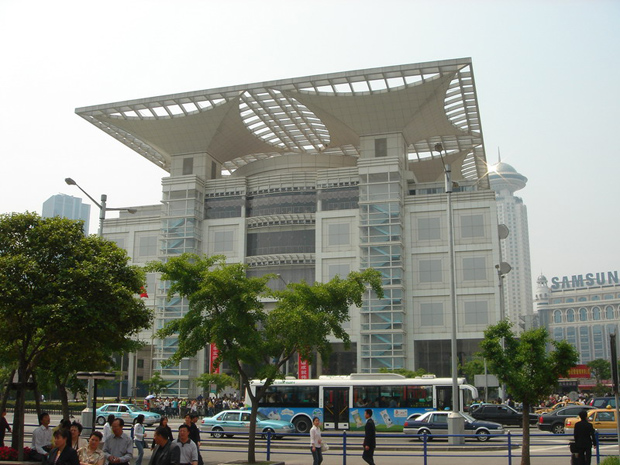 Next to the model was a round room. On the round walls of the rooms was a 360 degree movie taking visitors on a bird's eye trip around the city. The fourth floor displays future transportation, including magnetic levitation, subway, and light-rail trains. The view of the future of Shanghai is presented with high technology such as virtual reality and fantasy-view magic vision. The fifth floor showcases the 2010 World Expo and what is being constructed.
How to Get There?
Since it's situated in the center of Shanghai, there are many subway can reach it and around. You can take Metro Line 1, 2 or 8 and get off at Renmin Square Station, walk out from Exit 2 and you can easily find Shanghai Urban Planning Exhibition Hall.
Bus 451, 167, 537 and 802 run to Renmin Square Fuzhou Road Station, or Bus 108, 167, 312, 318, 454, 518, 537, 930 and 980 run to Renmin Square Guangdong Road Station. You can get off at these two stops, it's close to your destination.
If you join Bus Tour in Shanghai, there is a stop at Shanghai Urban Planning Exhibition Hall on both Red line and Green line. You can get it conveniently.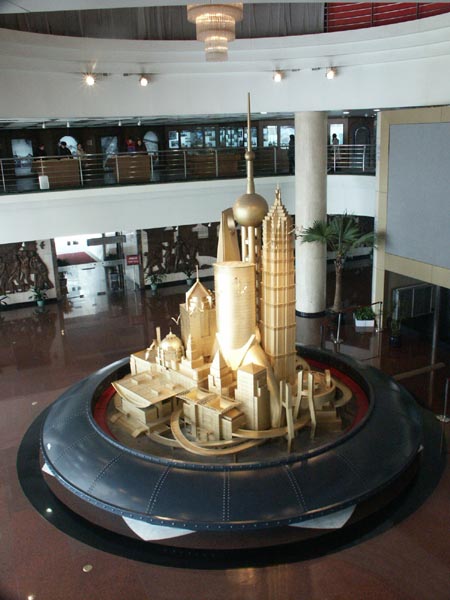 More Attractions in Shanghai
Recommended China Tours Including Shanghai Urban Planning Exhibition Hall Shanghai