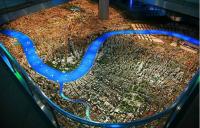 Located at the east part of People's Square of Shanghai, Shanghai Urban Planning Exhibition Hall tells people the procedure that Shanghai becomes a famous international city from a small fishing village. It exhibits the overall layout of Shanghai, especially the great changes that have taken place since the reform and opens to the outside world in 1978. Covering an area of 3,600 square meters, it is one of the world's largest showcases of urban development.
The main body of Shanghai Urban Planning Exhibition Hall is a five-story building, which displays Shanghai's development from ancient times to the present and beyond. The theme of this building is "City, People, Environment and Development".
The main feature of the first floor is a large revolving statue of some of Shanghai's most famous buildings. There are some movies and moving models which depict ancient Shanghai in the second floor. Many photos of old Shanghai and the buildings which still exist have photos representing what they looked like when new and what they look like now. They show how the city went from being just a small fishing village to a major world metropolis. The highlight is on the third floor. There is a city model made to a scale of 1/500, which features Shanghai's present. The model went through an entire day cycle from sunrise to night with all of the building's windows illuminated from inside.
Next to the model was a round room. On the round walls of the rooms was a 360 degree movie taking visitors on a bird's eye trip around the city. The fourth floor displays future transportation, including magnetic levitation, subway, and light-rail trains. The view of the future of Shanghai is presented with high technology such as virtual reality and fantasy-view magic vision. The fifth floor showcases the 2010 World Expo and what is being constructed. The basement was built to appear like a street in old Shanghai.
More Attractions in Shanghai
Recommended China Tours Including Shanghai Urban Planning Exhibition Hall Shanghai