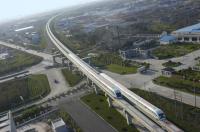 In the 21 century, with the sustained and rapid development of its economy and the fast progress of the society, a great demand for high speed passenger transportation has emerged. The high speed maglev transportation system is not only suitable to mass rapid passenger transportation between transport hubs hundreds to over one thousand kilometers apart, but also suitable for modern mass rapid passenger transportation between a center city and adjacent cities scores to hundreds of kilometers apart.
The Shanghai Maglev Train or Shanghai Transrapid is a magnetic levitation train, or maglev line that operates in Shanghai, China. Construction began in April 2001 of the first commercial Transrapid system. It is notable for being the first revenue-producing point-to-point high-speed maglev in the world. During a non-commercial test run on 12 November 2003, a maglev train achieved a Chinese record speed of 501 km/h. The train line was designed to connect Shanghai Pudong International Airport and the outskirts of central Pudong where passengers could interchange to the Shanghai Metro to continue their trip to the city center.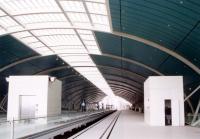 Shanghai Maglev is the fastest railway system in commercial operation in the world. The 30-km line runs between Pudong Shanghai International Airport and the Shanghai Lujiazui financial district. An end-to-end ride takes about eight minutes. A world record for commercial maglev systems was set on November 12, 2003. A five-section train achieved the top speed of 501 km/h while another vehicle passed at 430 km/h on the adjacent track. The Transrapid in Shanghai has a design speed of over 500 km/h and a regular service speed of 430 km/h.
In January 2006, the Shanghai-Hangzhou Maglev Train extension project was proposed by the Shanghai Urban Planning Administrative Bureau. The extension would continue the existing line towards Shanghai Hongqiao International Airport, running via Shanghai South Railway Station and the Expo 2010 site, with a possibly continuation towards Hangzhou. If built, the extension would allow transferring between the two airports - located 55 km (34 mi) apart - in approximately 15 minutes.
More Attractions in Shanghai
Recommended China Tours Including Shanghai Maglev Shanghai