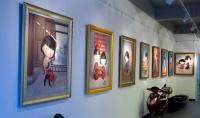 50 Moganshan Art District, or M50 was considered as the cradle of Shanghai's contemporary art scene. Less than 10 years old, it is the hottest art district in Shanghai, rivaled only by the 798 Art Community in Beijing as the center of Chinese modern art. This complex has been turned into the premier location for Shanghai's modern art movement.
Formerly a set of dilapidated warehouses, the complex, just south of Shanghai's Suzhou Creek, has been turned into the premier location for Shanghai's modern art movement. With all kinds of art exhibitions and promotional activities done by galleries and art organizations in Moganshan, M50 has become an important symbol of Shanghai's modern culture. There are more than 130 artists, filmmakers, architects and graphic design firms now inundate the area. A visit to this Chinese Art Mecca, you can check out some of the most avant-garde paintings and artistic works going on in Shanghai today.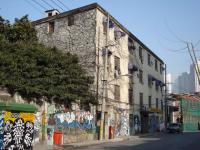 In order to attract artists, M50 has invited big names, including Liu Jianhua, Yang Fudong, Yang Zhengzhong and Xu Zheng, to open studios - at low rent. Some of the galleries are run by foreign expats, such as the celebrated Shangh ART, which is run by Swiss native Lorenz Helbling. Helbling chooses the staggered floor at Building16 as their artwork storehouse and exhibition space. Big workshops are mostly occupied by design companies and galleries.
Abandoned workshops are often popular with artists and gallery owners because of the cheap rent and the open ended architecture. If you are hankering for a sit down or just need a nice bite, there are a few cafes and teahouses scattered around M50. Bandu Music Café is a great place to grab a cup of coffee and explore the world of Chinese folk music. There are, however, a few shops and clothing stores, mostly owned and run by fresh young Shanghai fashion designers. Most notable are the artful designs of Shirt flag and its sister shop, Hi Panda.
More Attractions in Shanghai
Recommended China Tours Including M50 Art District Shanghai