Considering travel in Xian with kids? Xian is an old, exciting, and exceedingly rewarding historical city in China to visit and travel.
Xian can amuse your family in many ways. Modern life has fused so smoothly with 3000-year-old ancient traditions. And the numerous neon lights bring up the magnificent and enormous city walls, palaces and towers. Everyday routines seem completely normal with this uniquely historical vibe.

Xian is timeless, fabulous, and a perfect place for family travel. There is plenty to do in Xian with kids. Apart from all kinds of attractions and other unique things to do in Xian, you can taste hundreds of dishes and snacks!



Terracotta Warriors and Horses for All Families

It is a must-visit on all the itineraries for a trip to Xian, or China. Labelled as one of the 7 wonders in the world, Terracotta Warriors and Horses Museum has to be experienced to be believed! Everything you and your kids imagine of ancient China with stories about great emperor, brave soldiers, strong horses and and strong army can be seen and heard here.

While the parents are fascinated by the great history of China's Qin Dynasty, and what achievement Emperor Qinshihuang made, children will be surprised at the thousands of faces of the terracotta warriors and picture their lives 2000 years ago.

Clay Warrior Making for All Families

Your family will never get bored of Terracotta Warriors. Right after visit the museum, kids will love getting hands-on clay warrior making. It will be more fun if you visit a local family living in cave dwelling and make clay warrior there.

Cave house is a traditional dwelling in Xian of the loess plateau, and built out of thick loess layer. Cool in summer and warm in winter, this dwelling is also eco-friendly.

A small clay warrior will be made and you can take home as a best souvenir from China.

It is not the oldest, but it is the largest and best preserved ancient city wall extant in China. Initially built in Tang Dynasty, it witnessed the glorious past of ancient China and unveils many legends of the Silk Road. There were numerous caravans and travelers that went out of the city from its 18 big gates.

One of the best things to do for family with kids in Xian is biking the city wall for 13.74km, overlooking the city for its new and old. Mediate strength and much fun, and you can stop anywhere you want.

Additionally, there are Tang rite performance (actors in ancient outfit) on the city wall, which may cheer your family as well.
Local Family Visit and Make Dumpling for Foodie Family

Be honorable guests and make friends with warm local family. Talk to know about Chinese life, culture, economy, and everything. The best part, you can learn from your host to make dumpling, or named jiaozi, definitely the most popular food in China, and very healthy for kids.

Have fun with kids in making dumpling step by step -- make wraps, make the filling, make the condiments, wrap the filling, and cook!

If you and the children love dumpling, you may go to the dumpling banquet in Xian, for it offers various lovely shapes of dumplings.
Food Tasting tour around Muslim Street for Foodie Family

To travel in Xian with kids, you should not miss various gourmets food. To eat like a local in Xian, you can walk or take a tuktuk into the old streets and secret alleys, such as Muslim Street, to discover popular neighbour restaurants and snack bars for local specialty: cold rice noodles, Chinese hamburger (Rougamo), Steamed soup with beef and mutton, biangbiang noodles...

Kind reminder:

There are many street foods in Xian, like barbecue, which may not be suitable for kids to eat or those with weak stomach.

Shaanxi History Museum and Hanyang Tomb for Kids to History

The history of Xian traces back to more than 3000 years ago. You are most likely feel that the impact of experiencing the culture of Xian is one that will have a lasting impression on your kids for the rest of their lives.

Shaanxi History Museum and Hanyang Tomb are two of the best places for history and will never get the kids bored, as long as you have a good tour guide to tell all the fantastic stories behind the exhibits and relics.
Mt. Huashan for Adventurous Family

Xian is also highly recommended for family with adventure in mind. Play on one of China's most famous and thrilling mountains - Mount Huashan. It is gorgeous, cragged and also very challenging.

The walking trails and plank roads up to the mountain top are built against the cliff and very dangerous, hence not good choices for children. Instead, you may take the cableway, safer, more pleasant and more exciting experience for your family.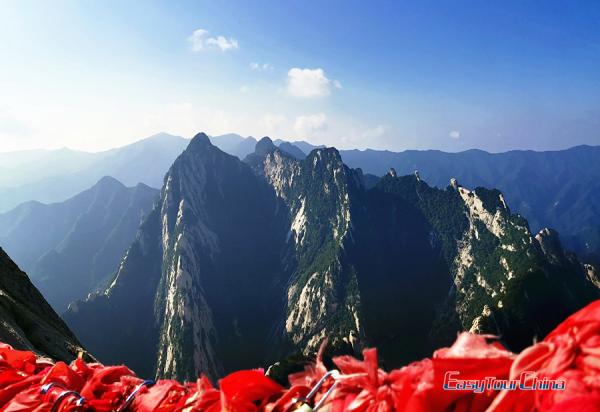 Practical Travel Tips for being Happy in Xian with Kids

Plan thoroughly for a slow-spaced itinerary. Leave much extra time for leisure, having meals and staying at each scenic spot.
Consult your tour operator in China for Child discounts for train, airline and attractions.
Forewarn your travel consultant and tour guide of the food that your kids are allergenic to.
Snacks are always necessary.
If you are looking for amusement parks and zoos for a family travel in Xian, here are the recommendations: Qujiang Ocean World, Xian Qinling Wildlife Park.
Travel to Xian in the off-season or shoulder season, as the popular attractions like Terracotta Army is full of tourists in peak season. Besides, the cost will be lower.