Drum Tower and Bell Tower are called "sister buildings" or "morning bell and dark drum" for the bell in the Bell Tower was stricken at dawn and the drum in the Drum Tower was beat at sunset to indicate the end of the day in ancient times. They are all regarded as landmarks of Xian. Drum Tower is located in the heart of Xian City, about 200 meters away from Bell Tower.
The Change of Drum Tower's Role in Ancient and Modern Times
In ancient times, especially from the Yuan Dynasty (1271-1368), the drums were used to signal the running of time and on occasion were used as an alarm in emergency situations. Nowadays the Drum Tower stands towering above the city center and offers incredible panoramic view of Xian.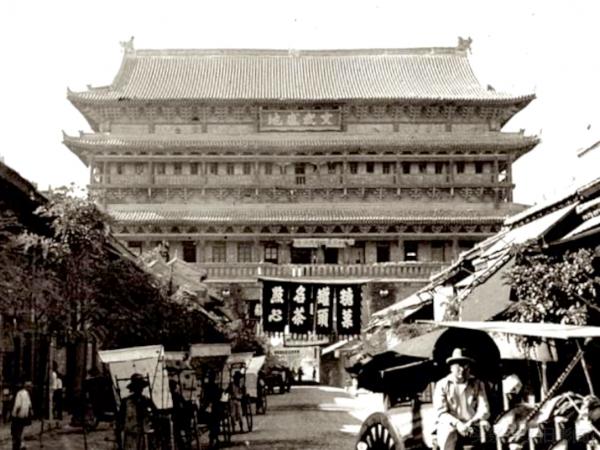 Brief Introduction of Drum Tower
The Drum Tower was erected in 1380 during the early Ming Dynasty and was renovated twice in 1699 and 1740. It is a two-storied post and panel structure which combines the architecture styles of the Tang Dynasty and the Qing Dynasty.
The tower is 34 meters (about 112 feet) high and 52.6 meters (about 172 feet) long from east to west as well as 38 meters (about 124 feet) wide from north to south.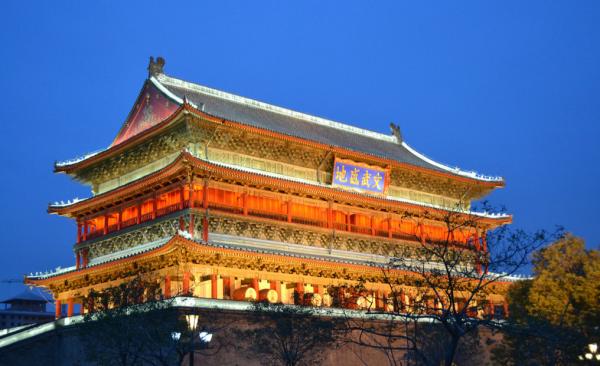 On the Drum Tower's first floor, lies a hall which hangs many large drums, each of which was decorated with intrinsic and beautiful Chinese writing. On the second floor there is a drum exhibition hall, where a variety of drums are on display. In 1996, a new drum, covered by a whole piece of cowhide was given a place on the Drum Tower, which is the biggest drum in China at present.

What to See
Horizontal Inscribed Board (匾额)
Under the third eave of the Drum Tower, there're two horizontal inscribed boards hang on the north and south sides respectively. The southern board reads Civil and Military Spot 文武盛地, the northern board reads The Voice Heard by Heaven 声闻于天. But unfortunately, they were destroyed during the Cultural Revolution period. Until 2005, these two horizontal inscribed boards were remade according to their original appearances and then rehanged on the Drum Tower.

Calligraphy & Painting (字画)
In the drum exhibition hall, several Qi Baishi and other Chinese artists' calligraphy and paintings are on display, which are all the classic ones.
Drums (鼓)
There are 24 drums in the north and south side of the Drum Tower. The Chinese traditional 24 solar terms (A kind of weather calendar created by the Chinese ancients in order to guide the agricultural production.) are written on each drum's surface in a beautiful calligraphy style call "Xiao Zhuan", respectively. And the other 4 big drums separately stands on the east and west side of the Drum Tower. Meanwhile, you can learn more about drums in the drum exhibition hall on the second floor of Drum Tower. Various drums are on display, some of which can be dated back thousands of years. Besides, the biggest drum will catch your eyes. It is covered by a whole piece of cowhide. If you climb to the top of the tower, you will be served an amazing panoramic view of the ancient Xian City.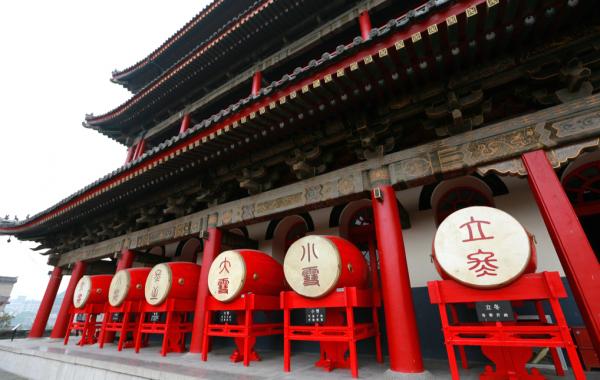 Drumming Performances (击鼓表演)
Visitors will have a chance to enjoy drumming performances on the Drum Tower. These performances will enlighten one on the power of ancient Chinese culture, which lasts for 20 minutes.
Drumming Performance Timetable:
09:30, 10:15, 11:00, 11:45, 14:00, 14:45, 15:30, 16:20, daily year round.
Drumming Performance Fee:
CNY 10 per person

When to Visit
Drum Tower can be visited all year round.
How to Get Here
By Bus
Take Bus 7, 8, 12, 15, 32, 36, 221, 222, 251, 252, 612 or 618, etc. and get off at Bell Station, then walk for 5 minutes to arrive the Drum Tower.
By Metro
Take Metro Line 2 and get off at Bell Tower Station. Then walk for 5 minutes to reach the Drum Tower.
Ticket Price
Entrance Fee: CNY 35 per person
Tips:
Joint ticket of Bell Tower & Drum Tower: CNY 50 per person
Opening Hours
April 1st -October 25th: 08:30-22:00 (Ticket selling stops at 21:30.)
October 26th -next March 31st: 08:30-18:00 (Ticket selling stops at 17:30.)
Travel Tips
When you finish visiting the Drum Tower, you can walk to the Moslem Street (Huimin Jie) which is very close to the Drum Tower, and taste numerous delicious snacks of Shaanxi in it.
Or if you still have enough energy, the nearby attractions like the Bell Tower, Great Mosque, Xian Old City Wall, etc. are highly recommended to you.
More Attractions in Xi'an
Recommended China Tours Including Xian Drum Tower Xian