Sun Island Scenic Area was founded in 1964. The name of the Sun Island comes from a northern dialect called Manchu Language. The fishermen of Man ethnic call a kind of fish "Tai Yi An" from the Songhua River; As handing down, the name turned into "Tai Yang", the pronunciation of "Tai Yang" sounds like "the sun" in Chinese, so now we call it the Sun Island.
Surrounded by blue water, boasts crystal lakes, wooden rockeries, beautiful flowers and exotic buildings, the dainty Sun Island of Harbin is located to the north of the Songhua River main waterway with amazing scenery. In the early eighties, the song, the Beautiful Sun Island, was sung by famous singer, displayed the taste of the Sun Island. From then on, Sun Island Scenic Area became famous both home and abroad, and has become a must-visit sight for a Harbin tour.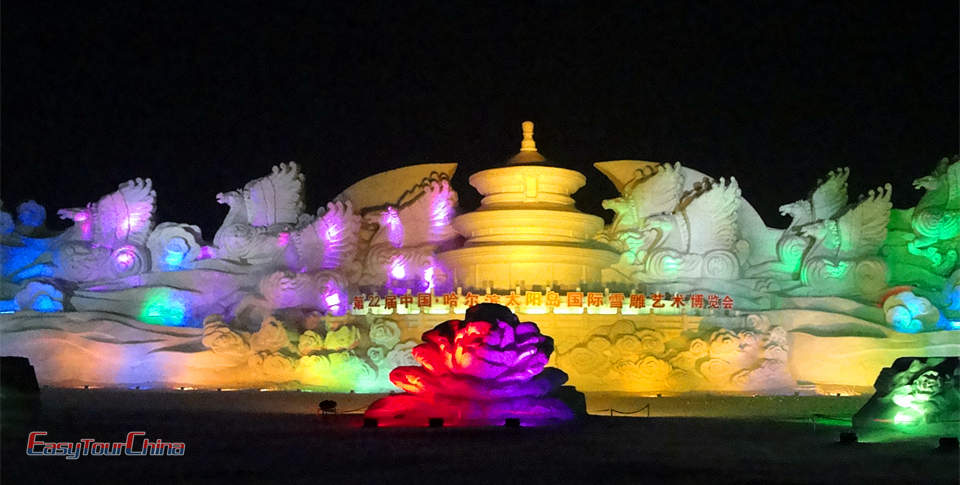 Facts
- In Chinese: 太阳岛
- Address: No. 24, Linjiang Road, Songbei District, Harbin
- Opening hours: 08:00 - 17:00
- Best time to visit: May - September to see the nature scenery; December - February to enjoy the Harbin International Ice & Snow Festival and The International Snow Sculpture Art Expo
- Entrance fee: RMB150 (for Harbin International Ice & Snow Festival); RMB30 (on usual days)
Winter Event - The International Snow Sculpture Art Expo
In winter when the Harbin ice and Snow Festival is celebrated, Sun Island Scenic Area becomes a paradise for recreational ice-snow activities and ice-snow travel. Every year, the Harbin International Snow Sculpture Art Expo is held here, exhibiting enthralling ice or snow sculptures and architectures, attracting thousands of visitors who are on their exciting Harbin Ice Festival tour.
The Art Expo makes every effort to take advantage of the beautiful garden landscape of Sun Island, ingeniously merge snow, snow scene and together, creating a natural & particular snow realm. During the Expo, visitors can experience amount of grand and vivid snow sculptures closely in different zones; they are made by carving masters but sometimes undergraduates; if you want to have a much real experience, create one yourself is available. Other than watching the sculptures of theme park, visitors can also do some snow play activities, such as Ice slide, ice-rink, bumper car, etc.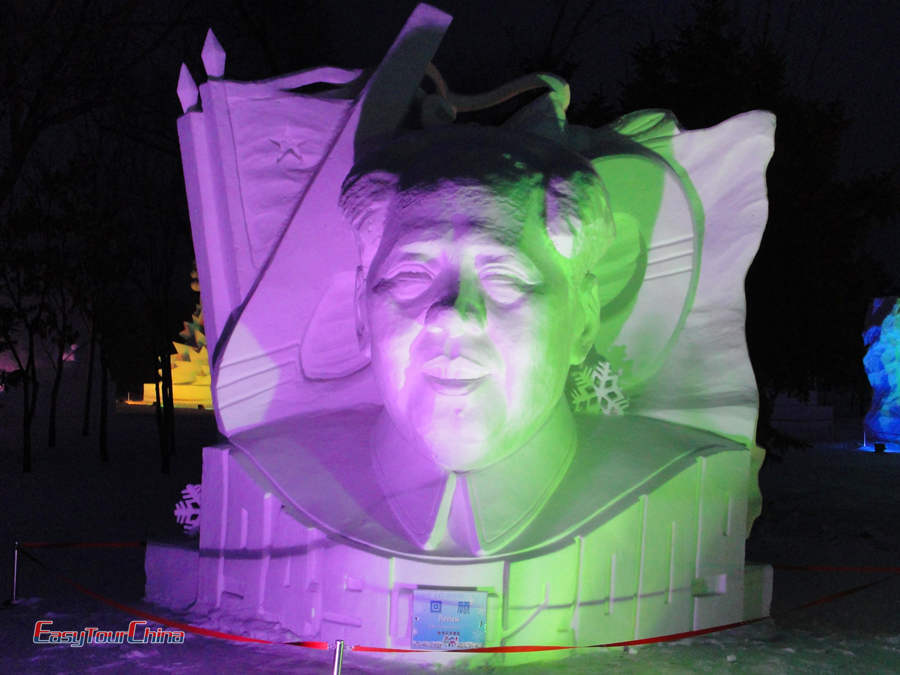 What to See in Other Seasons - Main Attractions
Spring scenery at Sun Island Scenic Area is colorful; there are more than twenty scenic spots. Many of them are must-see scenery spot, which can be divided into three parts. Animals' World is located in the north and west. The Deer Garden, the Swan Lake and the Squirrel Island consist of the zone of the animal's world. In the Flower Garden, you can see twelve breeds of cloves in the Clove Garden blossom from May to July, driving birds to sing for them. The center of the garden is featured by flowers, lakes and ice-snow beauty. Ice and snow series, exotic Russian series, a gallery and a memorial garden can be found in the south. In the Cloud-water Gloriette, visitors get a whole view of the lake and the Sun Hill while breeze gently brushes their faces. Dining in the Russian restaurant, strolling on the Russian style streets and buying some craftworks are unexpected surprise for visitors in Exotic Russian series.
In summer, the comfortable weather makes it the first choice to avoid summer heat. Its circular belt of white sand beaches, blue water and abundant sunlight make it an exquisite sun-bathing area. Boating in the lake, enjoy a leisure time here. Fresh flowers and colorful grass sculptures are found flanking the roads.
How to go there?
Taxi is the most convenient and quick vehicle to get there. Besides, Bus 119, 125, 126, 127, 211, 212, 213, 215, 216, 219, 223, 225 or 226 can easily send you to Taiyangdao (Sun Island) Station, then walk around 1.1km to reach the Sun Island.
More Attractions in Habin
Recommended China Tours Including Sun Island Scenic Area Harbin