Situated in the city center, the Shanghai Museum is a large-scale museum of ancient Chinese art. The museum houses over 1.02 million pieces of historical relics from various dynasties and generations, including more than 140,000 precious cultural relics, with the most distinctive features of ancient bronze ceramics, calligraphy and paintings. In addition, the museum often holds special exhibitions, including various domestic and foreign cultural relics, art works, calligraphy and painting exhibitions.
First established in 1952 and relocated in 1996, the Shanghai Museum has 10 art galleries, four cultural relic donation rooms and three special exhibition halls, which focus on reflecting the complete development history of each art category. The integrity of the system enjoys a high reputation at home and abroad with the wealth of the collection, superb quality. The museum is especially famous for its collection of bronze pieces.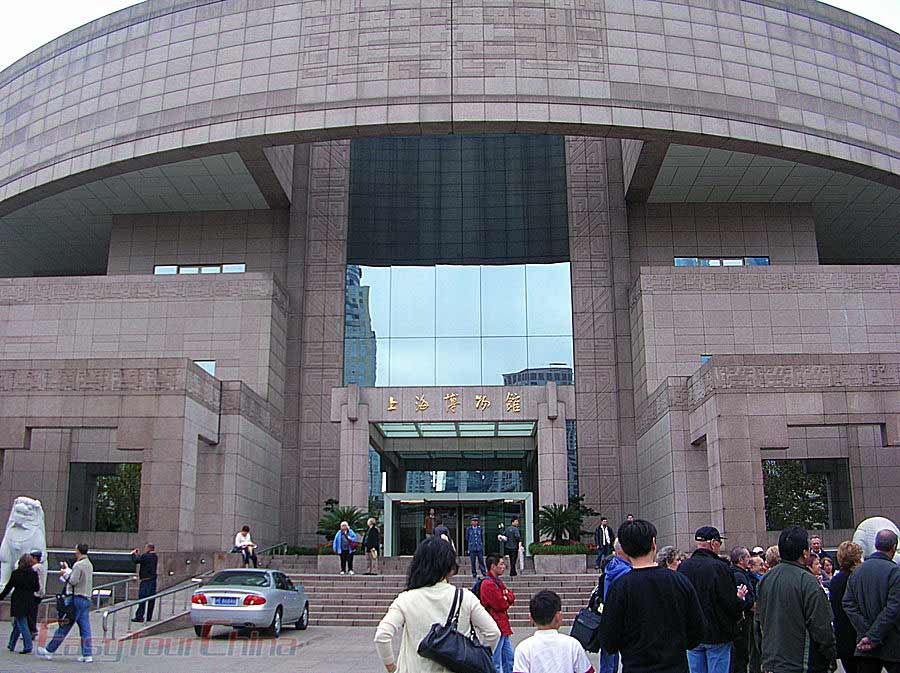 Facts
- In Chinese: 上海博物馆
- Address: No.201 Renmin Da Dao (Renmin Avenue), Huangpu District, Shanghai
- Opening time: 09:00 – 17:00 (last entry at 16:00; closed on Monday)
- Best time to visit: just avoid Chinese public holidays
- Ticket price: free (RMB40 for renting translator)
Highlights
Shanghai Museum is one of the top 7 Museums in Shanghai, follow us to catch a simple glimpse of it.
Ancient Bronze Display Hall
Bronze is an important symbol of ancient Chinese civilization. The 1,200-square-meter showroom has housed more than 400 beautifully decorated bronze artifacts, which reflect the development of the Chinese society from the 18th century BC to the 3rd century BC. With its dark green color, the showroom conveys an artistic atmosphere of history and culture. The ancient statue showroom has over 120 statues on display, including the simple and colored wood statues from the Warring States period (475-221 BC), Buddha statues from the Northern Wei Dynasty (386-543) and the pottery figures (including horses and soldiers) of the Tang Dynasty (618-907). Visitors can also get a clear picture of what the ancient seals Shanghai Museum looked like in the past in the Seal Showroom. The room consists of four parts, has over 500 seals on display, which date from the Western Zhou Dynasty (1046-256 BC). Entering the showroom of furniture of the Ming (1368-1644) and Qing (1644-1911) dynasties the visitor almost feels he/she is in a Chinese-style garden and mansion. In a 700-square-meter showroom, more than 100 pieces of furniture are on show. In the Coin Gallery, the visitor can find nearly 7,000 coins made from a variety of metals including bronze, gold, iron and copper, which chart the development of coinage in China.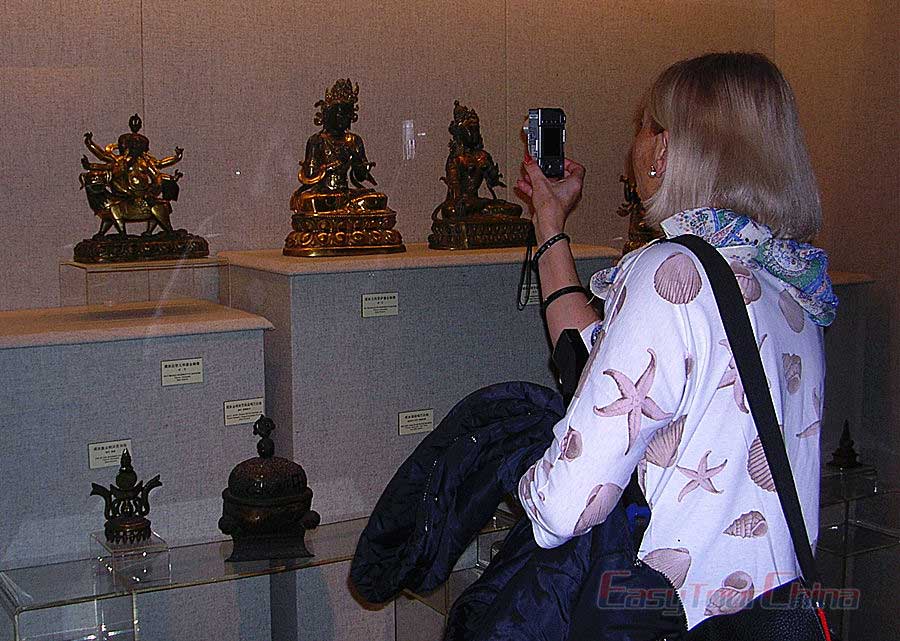 Ancient Statues Display Hall
The exhibition hall uses gold, red and black as its basic color, and lotus petals, which are commonly used in Buddhist art, as its partition wall. The shrines in the grottoes are used as closets and displays. In addition to display part of the wood sculptures, ceramic sculptures, the hall focuses on stone sculptures. There are also sculptures of Northern Wei, Northern Qi, Northern Zhou and Sui and Tang dynasties, as well as southern stone carvings, gold and copper Buddha statues, etc.
Ancient Ceramics Display Hall
The exhibition hall covers an area of 1300 square meters and displays more than 500 exhibits. Among them are colored pottery and gray pottery of Neolithic Age, primitive celadon of Shang and Zhou dynasties, Spring and Autumn Period and Warring States Period, celadon of Eastern Han dynasty, and famed tri-colored pottery of Tang dynasty. In the Song, Jin and Liao dynasties, kilns developed well. And Jingdezhen became the center of China's porcelain industry during Yuan, Ming and Qing dynasties.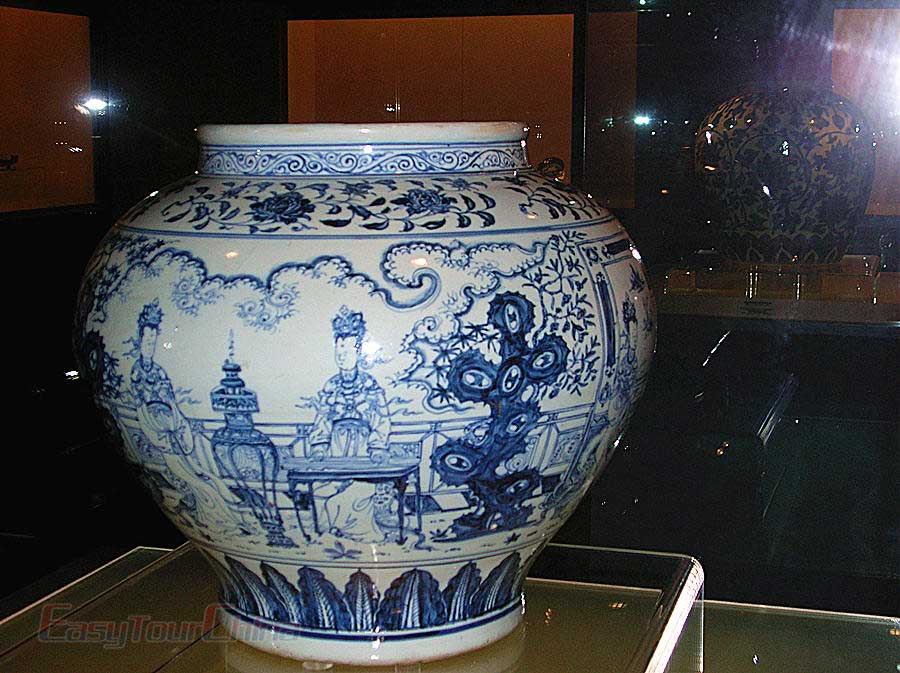 Painting Gallery
The gallery covers an area of 1200 square meters and displays over 120 fine paintings from the Tang dynasty to modern times including all kinds of painting. Painting has a deep tradition and a unique national style. It is a plastic art with brush, ink and silk paper as main tools and dot and line structure as main means of expression.
Other than these four main exhibition halls, Calligraphy Hall, Ancient Signet Hall, National Craft Display Hall, Historical Coin Display Hall, Ming & Qing Dynasty Household Display Hall and Ancient Jade Article Hall are usually open to the public. The museum also has a library collection of more than 200,000 books on Chinese art and history. It also has an Archaeological Department, which takes charge of archaeological fieldwork. To date, the department has successfully discovered 27 cultural heritage sites over the past decade.
How to Get There?
You can take Metro Line 1, 2 or 8 and get off at Renmin Square Station; Shanghai Museum is near the square.
Or you can also take Bus 18, 46, 49, 71, 108, 112, 123, 127, 145, 167, 311, 312, 318, 324, 454, 518, 925, 930, 934, 936, 952 or 980 to your destination, and enjoy Shanghai city scene on the way.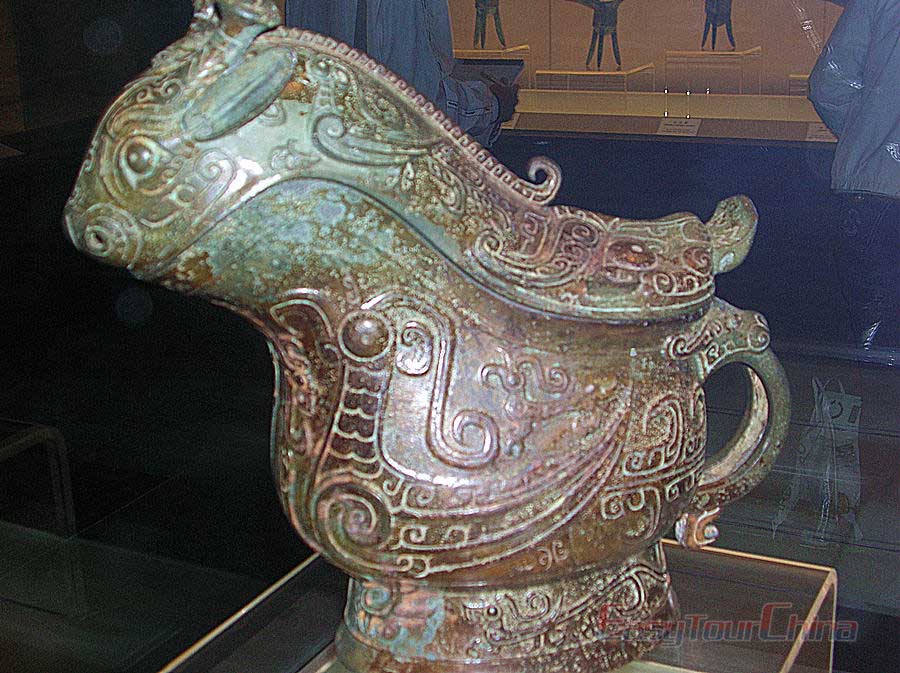 More Attractions in Shanghai
Recommended China Tours Including Shanghai Museum Shanghai