Nanjing Road is one of the earliest commercial streets in Shanghai, and Nanjing Road Pedestrian Street is one of the top 10 pedestrian streets in China. This is the center of department stores, with a full range of goods, a shopper's paradise. It's also a paradise for foodie, which gathers numerous century-old restaurants, famed food stores and local snacks stores. Creative urban sculptures can be seen everywhere, with plenty of chairs in the middle of the street for tourists to sit on, a good place to have a leisure city trip. Nanjing Road Pedestrian Street, you can see Dangdang sightseeing tram like a miniature version of the old trolley cars shuttling back and forth, such old Shanghai flavor, it's worthy experiencing.
It stretches 5.5 kilometers from the Bund in the east to the West Yan'an Road in the west, spanning Jing'an and Huangpu districts, and Middle Tibet Road is the dividing point. In 1945, the nationalist government recalled all concessions from western countries and renamed Nanjing Road as East Nanjing Road and West Jing'an Road as West Nanjing Road. Therefore, Nanjing Road broadly includes two of Shanghai's top ten commercial centers: East Nanjing Road and West Nanjing Road.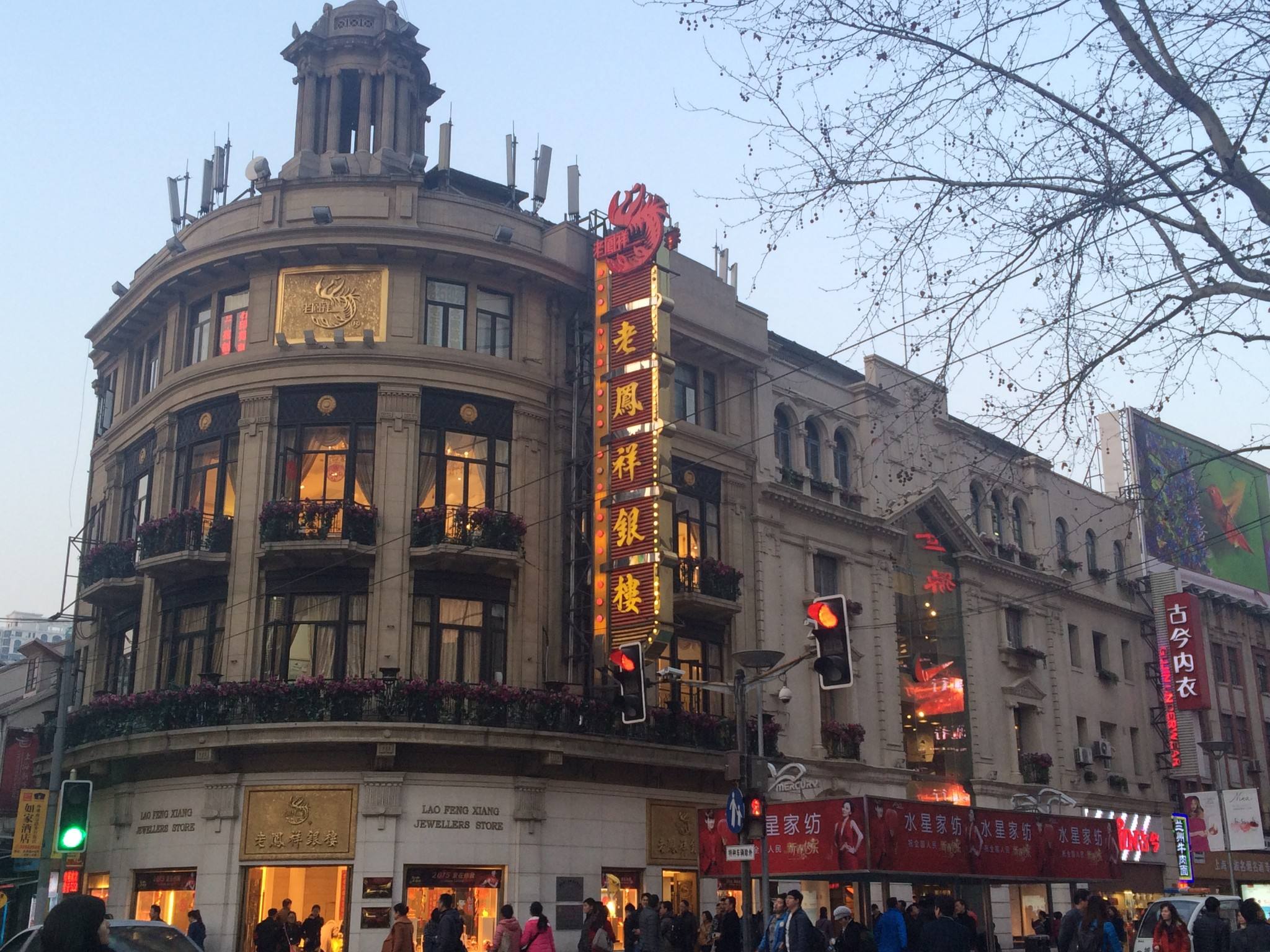 East Nanjing Road (including Nanjing Road pedestrian street) is mainly affordable commercial and tourist areas; and West Nanjing Road (including the Jing'an Temple area) is the most expensive and fashionable commercial district in China and the most luxurious in Shanghai, focusing on luxury goods and high-end personalized consumption.
Facts
- In Chinese: 南京路
- Address: No.558 East Nanjing Road, Huangpu District, Shanghai
- Opening time: all day (shops generally open from 10:00 to 22:00)
- Best time to visit: night
- Length: 5.5 km (1033 meters in pedestrian street)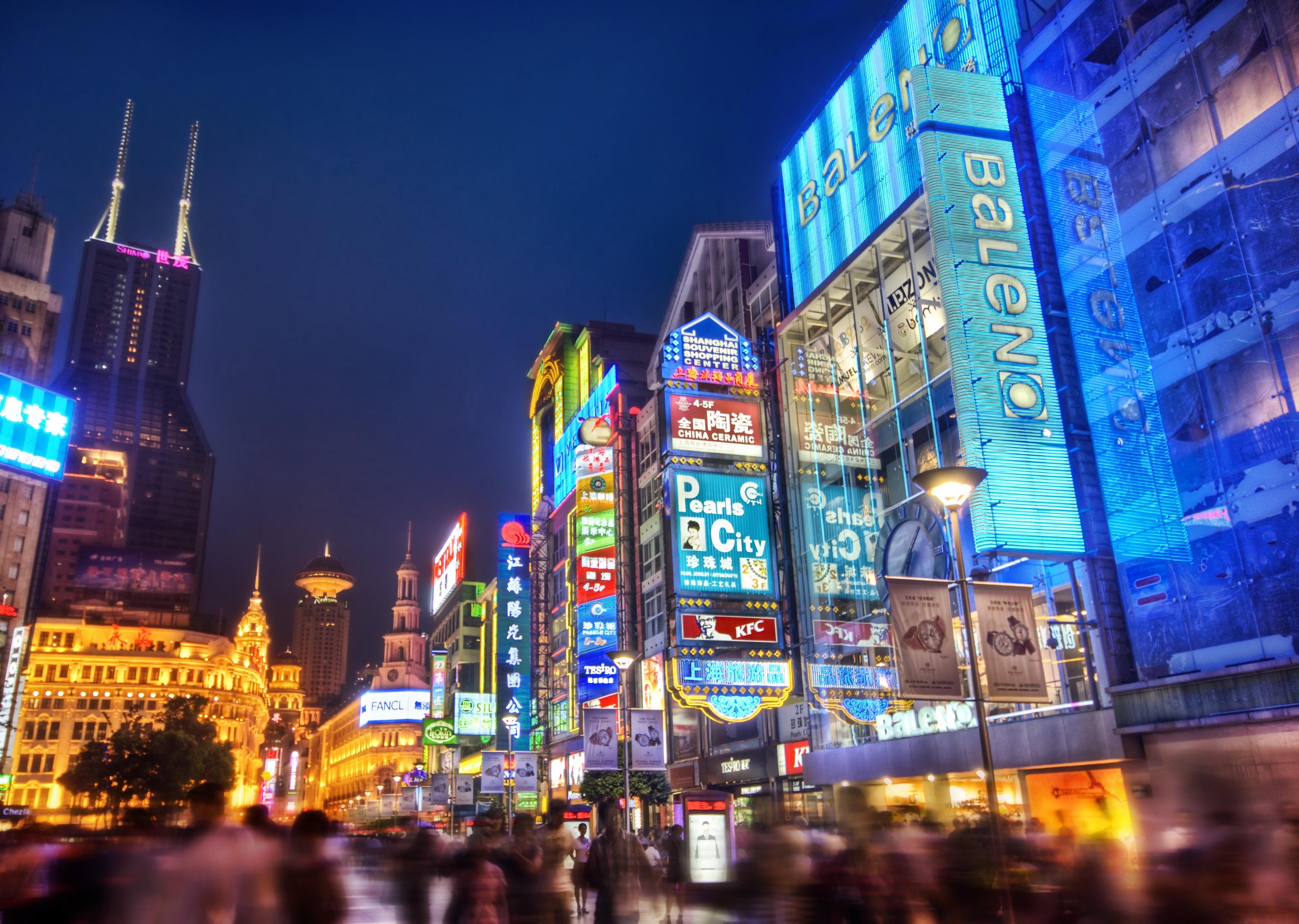 What to Do?
1. Enjoy night view. Nanjing Road is the most famed shopping street in Shanghai, and it's also one of the top Shanghai attractions. On weekends, people come here to shop, taste delicious food and travel in an endless stream. It is close to the east of the Bund. Especially at night, where various neon lights shine brightly and the buildings with distinctive features are more beautiful and magnificent, attracting a large number of tourists from home and abroad.
2. Spend your leisure time. There are marble benches along the streets of Nanjing Road. It is very convenient to rest your feet when you are tired. This is not only a shopping paradise, but also the location of many places of interest.
3. Savor delicious food. Time-honored brand food stores are basically countless on your both hands in Nanjing Road Pedestrian Street. Biscuits of Taikong, Yue cuisine and dims of Xinya, roast duck of Yanyunlou, smoked fish and moon cake of Zhenlaodafang, etc. If you want to try some snacks, you can rush to the nearby food street in Yunnan Road; if you chase the romantic sense of old Shanghai, you can have meals in Heping Restaurant near the Bund.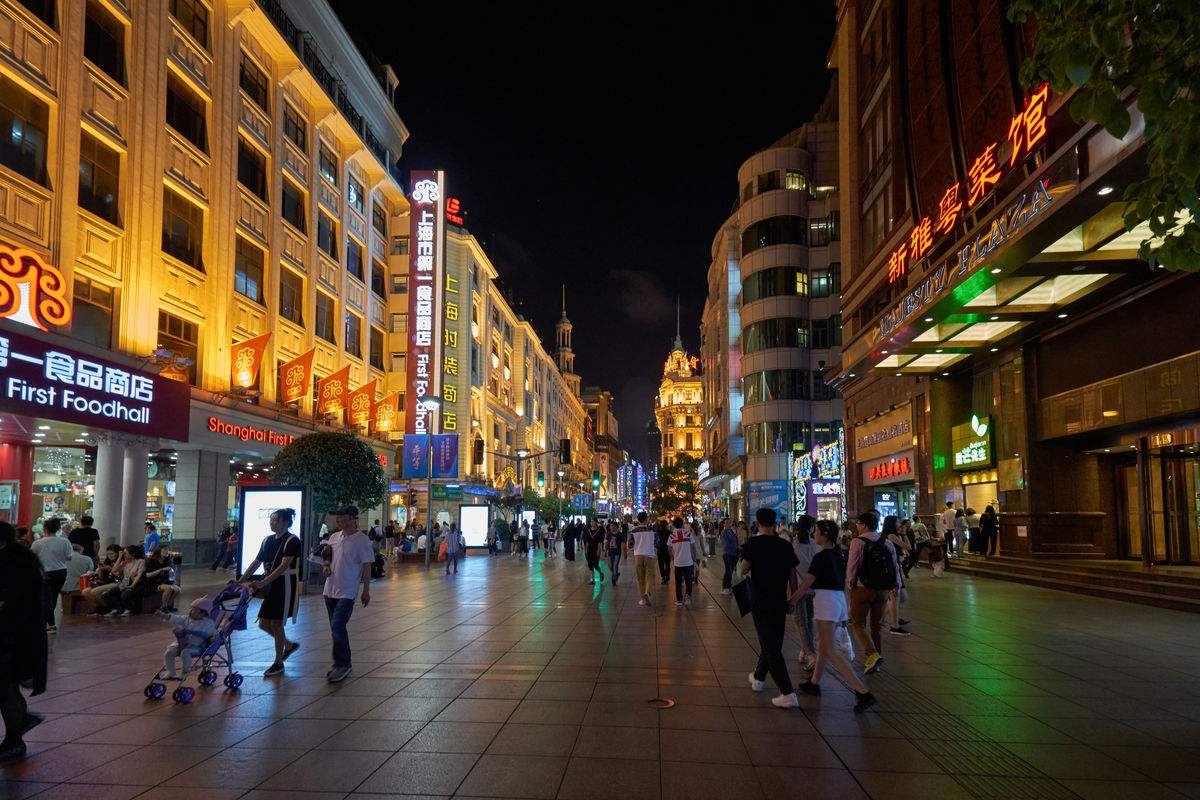 How to Get There?
Metro Line 1, 2 or 8 runs to Renmin Square Station, you can get off at No.6 Exit. Go across the underpass, you can reach the west point of Nanjing Road Pedestrian Street. Or you can take Metro Line 2 or 10 to East Nanjing Road Station, whatever you get off at Exit 1, 2, or 4, it will be the east point of Nanjing Road Pedestrian Street.
If you take Bus 20, 37, 330 or 921, you can get off at Jiujiang Road Huanghe Road Station. Then walk to the east for about a hundred meters across the square by underpass, you can get to the west starter.
More Attractions in Shanghai
Recommended China Tours Including Nanjing Road Shanghai