Yu Garden is located at the heart of Old Town, a few blocks southwest of the Bund in downtown Shanghai. It is one of China's loveliest private classical gardens. Its name means Garden of Contentment, and it is indeed a pastoral world apart from modern and hectic Shanghai.
Its construction was completed in 1577 by an official, Pan Yunduan, as the private estate for his father, who served in the Ming Dynasty as the governor of Sichuan. Laid out by a landscape artist, Zhan Nanyang, it has become one of the most renowned gardens in South China. The portion known as the Inner Garden (Nei Yuan) was added in 1709. It is a remarkable maze of gorgeous Ming Dynasty pavilions and elaborate rockeries, arched bridges, and goldfish ponds, encircled by a massive, undulating dragon wall. Occupying just 5 hectares (12.5 acres), it Yu Gardennevertheless seems as expansive as a small town, with room for 30 pavilions.
As the Pan family declined, the garden was gradually abandoned and overgrows until the local gentry restored it in 1760. It became the headquarters of the Small-Sword (Dagger) Society Uprising against foreign imperialists in Shanghai, Xiamen and other parts of China in 1853. During the early time of Taiping Heavenly Kingdom Revolution (1851-1864), it was damaged badly. Part of the garden became the bazaar and local guildhalls, but over 20,000 square meters remain of tall rockeries, halls, ponds and pavilions linked by zigzag corridors.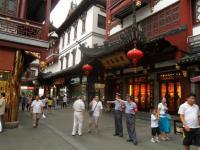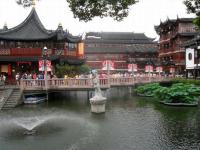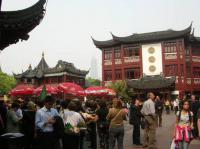 Recommended Tours including Great Wall Beijing:
12 Day China Tibet Tours
20 Day China Odyssey Tours
15 Day China Impression Tour with Yangtze River
13 Day China Delight Tours for Families

More Attractions in Shanghai
Recommended China Tours Including Yu Garden Shanghai