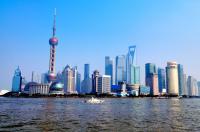 The 468-meter-high Tower, which is the highest in Asia and the third highest trailing 553.33-meter-high Toronto Tower Canada, and 533 meters high TV Tower in Moscow, Russia in the world, was put into construction in 1991 and completed in 1993. On May 1, 1994, the 118-meter-high antenna pole was successfully connected with the Tower body in the first attempt sitting between Nanpu Bridge in the south and Yangpu Bridge in the north of the Huanpu River, the Tower is made up of 11 balls, the lowest of which is 118 meters high and the tallest being 295 meters. There is a revolving teahouse and a scenery-viewing platform, which can accommodate 1,600 people in the tallest ball. Here visitors can enjoy a panoramic view of the Bund and the Pudong New Area.
Three nine-meter-in-diameter cylinders, which are supported by three tilted standings seven-meter-in-diameter with an oblique angle of 60, tower to the sky. With eleven steel spheres in various sizes inscribed, the body of the Tower creates an admirable image, which is described in an ancient Chinese verse as: Large and small pearls dropping on a plate of jade.
The color-changeable luminary system of the Tower consists of 438 emitting lamps, 2 revolving lamps, 2 light belts, 2 projectors, 576 lighting points and other accessory equipments. Automatically controlled by computers, the lamps give the Tower body thousands of changeable colors.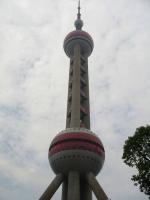 The antenna at the top of the tower can be used for multiple purposes of data transfer and telecommunications. It accommodates the transmission of 10 radio frequencies and 9 TV channels. The power covering the whole area of Shanghai, the operation of the Tower largely improves the receiving of radio and TV programs for Shanghai residents.
There are 6 elevators in the tower - five installed in the three columns, one between the height of 250 meters and 341 meters. One of the five elevators is double-decked. With a capacity of accommodating 50 persons at a speed of 4 meters per second, it is the only one of its kind in China. Two medium-sized elevators, accommodating 30 persons each and running at a speed of 7 meters per second, cover the distance from the bottom of the Tower to the higher sphere within 40 seconds.
The Tower is 120,000 tons in weight, compared with the 7,000 tons of the Eiffel Tower in Paris of France. The steel structure of the lower sphere weights 624 tons, the higher sphere being 873 tons, the space cabin 50 tons and the antenna 450 tons.
More Attractions in Shanghai
Recommended China Tours Including Oriental Pearl TV Tower Shanghai