Zhujiajiao Ancient Town is one of the top 4 historical and cultural old towns in shanghai, and it's a typical water town in south China. Situated on the bank of the Dianshanhu Lake on the western outskirts of Shanghai, Zhujiajiao, a canal town (an enchanting place that is often compared to Venice, Italy), is about 50 kilometers away from the city center. Bridges and a river surround the town, showing the epitome of the water town of China.
There are numerous places of interest with complete leisure and activity facilities; and the natural scenery will dazzle your eyes. The town features beautiful waterways, arched stone bridges, ancient streets paved with stone; and more than 10,000 houses dating back to Ming (1368-1644) and Qing (1644-1911) dynasties. Zhujiajiao was developed into a town in the Ming Dynasty and in its prime time in 1930s, there were over 70 rice stores here and its rice was transported to many parts of the country.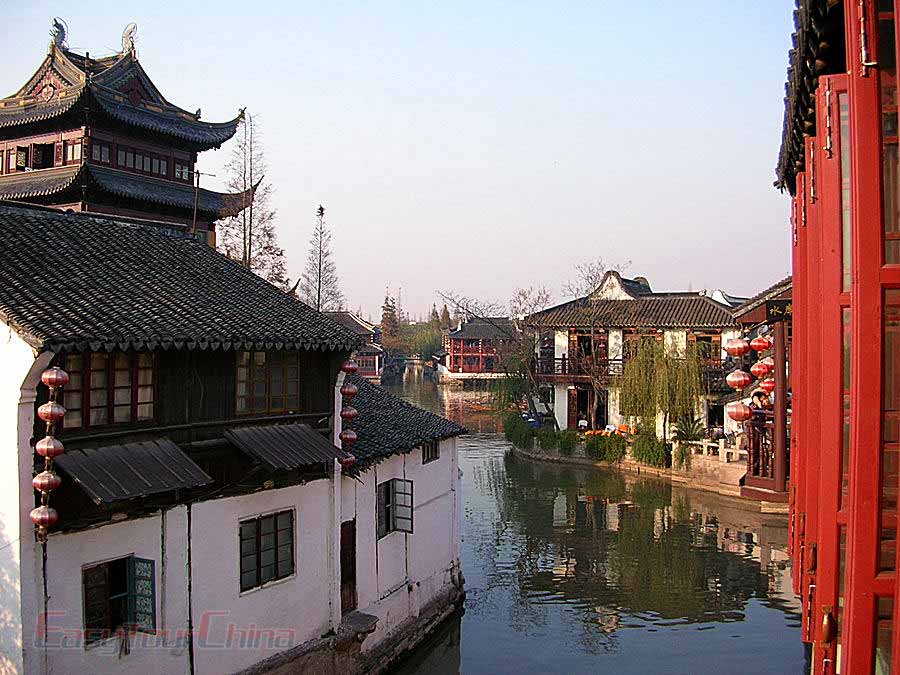 After visits of participants in the Asia-Pacific Economic Cooperation meetings held in Shanghai in 2001, the town became more famous and frequented. Visitors will be definitely fascinated by this ancient town while marveling at the same time at Shanghai's modern life.
Facts
- In Chinese: 朱家角古镇
- Address: Zhujiaojiao Old Town, Qingpu District, Shanghai
- Distance: 50 km away from Shanghai downtown
- History: over 1700 years
- Opening time: 08:30 – 16:30 (for scenic spots inside the town)
- Best time to visit: spring & autumn
- Ticket price: free for enter the town, but you need to pay for the tickets if you visit some of scenic spots in the town. Here is for your reference:
RMB30 for four scenic spots (including Tongtianhe Medicine Shop, Qing Dynasty Post Office, Y-Art Gallery, and Kezhi Garden);
RMB60 for eight scenic spots (including Y-Art Gallery, Tongtianhe Medicine Shop, Qing Dynasty Post Office, City God Temple, Yuanjin Meditation Room, Handwork Exhibition Hall, Quanhua Art Hall and Kezhi Garden);
RMB80 for cruise boat and eight scenic spots mentioned above.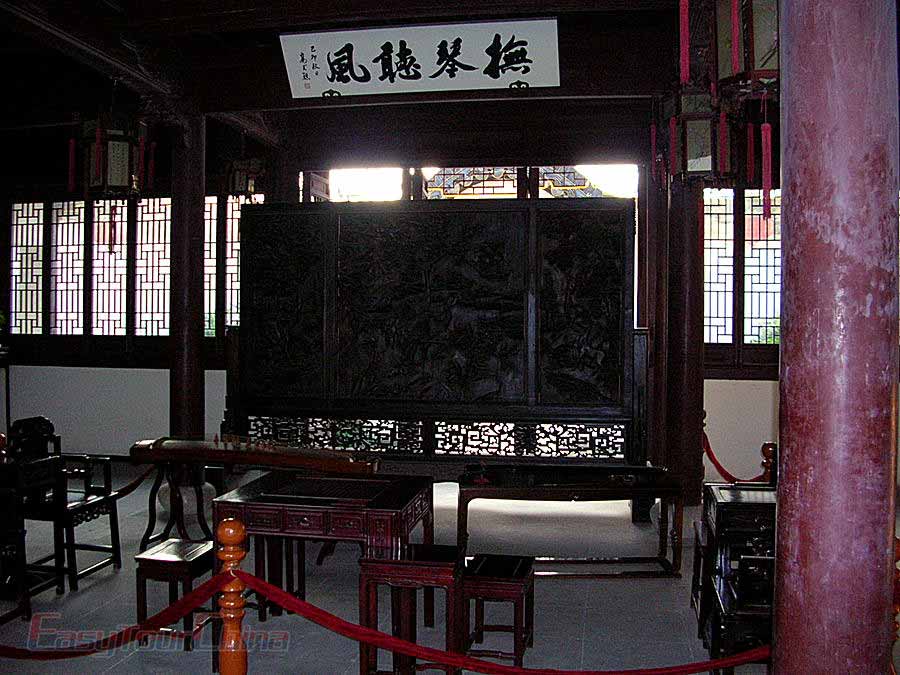 What to See?
1. Bridges. There are altogether 36 bridges in the town and each has a name and possibly a story, which will speak itself when the tourist sits on the bridge, staring at the mosses growing out of the gaps in the stones or the river on which boats pass by. The five-arch Fangsheng Bridge built in 1571 in the Ming Dynasty is still standing there. Inscriptions on the weather-beaten steles by the side of the river tell people to do good things and accumulate merits for the after lift.
2. Qing dynasty post office. Daqing Youju, a post office in the Qing Dynasty, was set up in 1862 and is a proof of the past importance of this small town. Letters written on bamboo and other wood, and early stamps and envelopes will leave people amazed at how fast the postal and information processes have developed.
3. Yuanjin Chanyuan, a temple constructed in 1341, is also worth a visit. Chenghuangmiao (City-God Temple) is a temple where Guanyin (Goddess of Mercy) is still worshipped and is popular for its Taoist faith.
4. Kezhi Garden. Like many other waterside towns in this region, Zhujiajiao has several private gardens, which used to be owned by officials or landlords but have now opened to the public. Another attraction is Kezhi Garden on Great North Street. It is one of the largest manor-style private gardens in the vast southern China region. While strolling in the picturesque garden of this mansion, visitors can enjoy a presentation of Suzhou Pingtan, a traditional genre of artistic show, with a pair of performers singing in Suzhou dialect and playing ancient Chinese string instruments.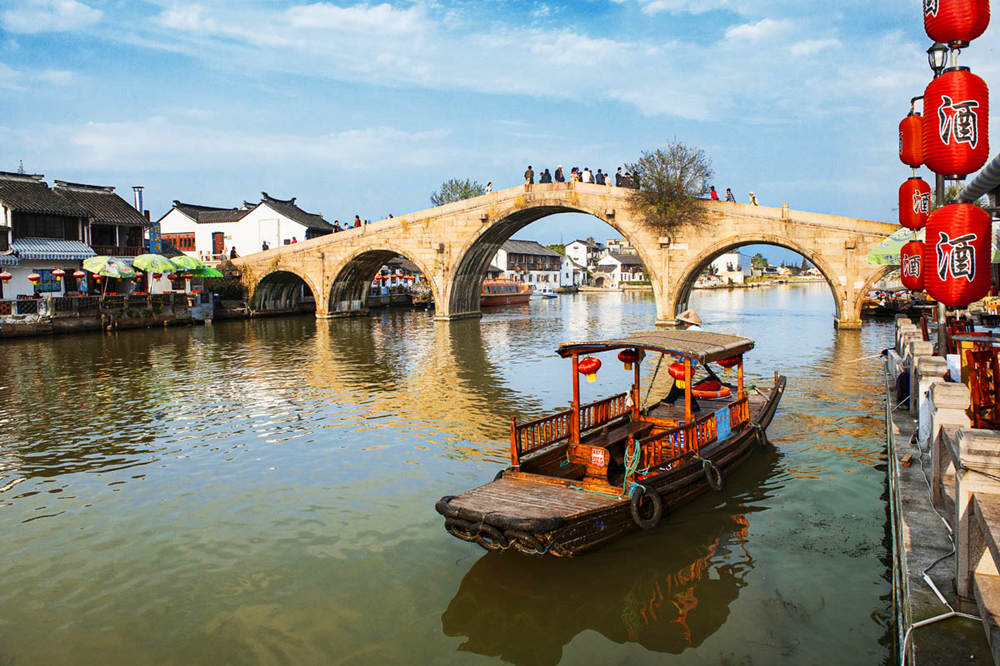 What to Do?
1. Wander around and enjoy a relaxing time here. Visitors can take a walk to explore Zhujiajiao Water Town what it looks like or board canvas-canopied boats for the canal-side Granny Tea house for a short tea break. It is the most famous teahouse in the community.
2. Lie in a boat floating on the river. It's a romantic thing to lie in a boat in a Chinese water town, floating yourself on the river, going through bridges and watching them pass over you. This is a fabulous emotion of Chinese style.
3. Find delicious food in Beidajie (North Street). North Street is one of the nine old streets of Zhujiajiao Ancient Town. It's the best preserved here and some buildings along the street can be dated back to Qing dynasty. And now, it is home to many local specialties, snacks and typical Shanghai dishes which you cannot miss.
How to Get There?
Metro Line 17 can go straight to Zhujiajiao Station, then after you walk about 15 minutes, you can see the big greetings written on the wall in front of you.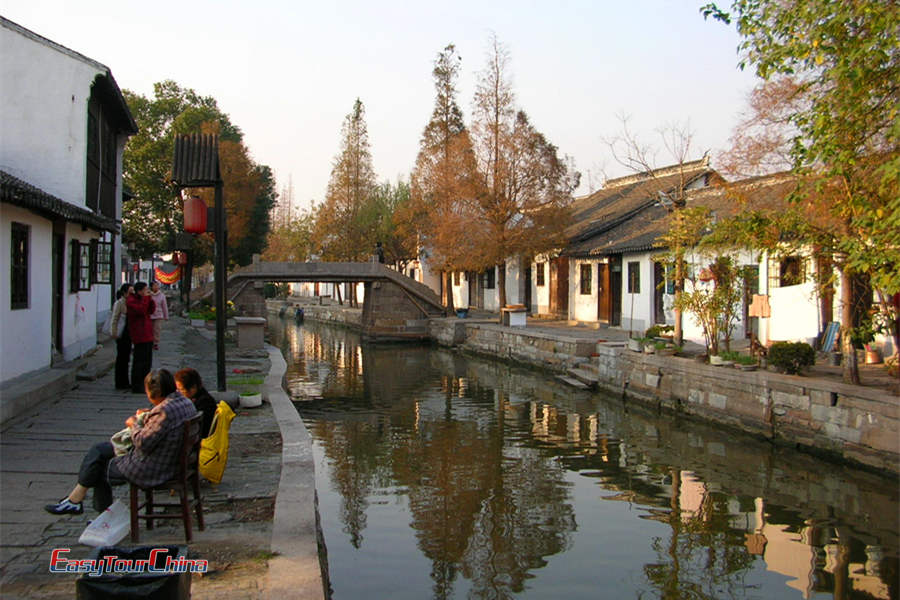 There are a large number of Huzhu Express Lines setting off from Shanghai Tourist Center to Zhujiajiao Ancient Town. Besides, you can also a Special Line to your destination, such as Huzhu Special Line from Pu'an Road, People Square, Huzhu Special Line from West Bus Station and Shangzhu Special Line from Shanghai South Rail Station.
If you are not very familiar with Bus Station or bus stops of Shanghai, we still recommend you book a car or take taxi to Zhujiajiao, in this way, your driver can escort you safely and conveniently.
More Attractions in Shanghai
Recommended China Tours Including Zhujiajiao Ancient Town (Zhujiajiao Water Town) Shanghai