Designed by Kohn Pedersen Fox and developed by Mori Building, Shanghai World Financial Center is a mixed-use skyscraper consisting of offices, hotels, conference rooms, observation decks, and ground-floor shopping malls. Located in the Pudong district of Shanghai, this skyscraper is second-tallest building in the world with 101 floors above ground level and soaring to a height of 492meters.
The construction started in 1997 and continued after a six-year shutdown that caused by the Asian financial crisis. With the intention to be the tallest building in the world, seven more floors were added after revisions to the previous design. On 28 August 2008, the Shanghai World Financial Center officially opened for business. Two days later, the world's tallest observation deck opened, offering views from 474 m above ground level.
Shanghai World Financial Center is a hub of culture and information, which offers office space with cutting-edge specifications and all the functions expected of a world-class international financial center. Aiming to be a magnet of the world's finance, the building boasts functions of first class financial centers, able to showcase monetary talents, cultural and art exhibitions and information from all over the world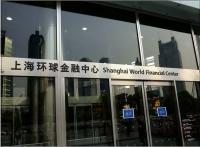 There is a hub for the exchange of culture and communication of information--a place where people and information resonate and move the world in the heart of Shanghai World Financial Center. Shanghai World Financial Center offers the ultimate in space, facilities and services to host global forums, brand exhibitions and other world-class event. Meeting facilities and offices are distributed on F3-5 and F7-77. For every business scenario, the variety of restaurants and cafes provide just the right stage.
Shanghai World Financial Center supports the lifestyle of the financial executive with the convenience of diversity in a single spot. Located on F79-93, the Park Hyatt stands out for its elegant accommodations and luxurious hospitality and service. Soaring 474 meters above the ground, the 100th floor observation deck provides a spectacular view of downtown Shanghai and the Huang Pu River below. Befitting its stature as an international financial center, Shanghai World Financial Center sets standards for office functionality and comfort, providing all the support your business expects and more.
More Attractions in Shanghai
Recommended China Tours Including Shanghai World Financial Center Shanghai