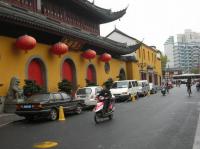 Shanghai's most popular temple with visitors, the Jade Buddha complex has an exceedingly short history, having been completed in 1918, but it exudes a powerful potion of thick incense, flashy decorations, and a dark, seedy atmosphere that makes it seem centuries older. The architectural style comes from the Song Dynasty (A.D. 960-1279), when swirling eaves were the style; the brilliant yellow walls are of recent origin.
The chief attractions are the painted religious statues, which are stacked high in the three main halls. The Treasure Hall of the Great Hero (Da-xiong-bao-dian) contains golden images of the Buddhas of the past, present, and future, flanked by their 18 followers. The White Jade Buddha, located up a narrow seJade Buddha Templet of old stairs on the second floor of Wentang Hall, is the true treasure. Carved in Burma and brought to Shanghai in 1881 by Huigeng, a Chinese pilgrim, it is twice life-size (weighing 205kg / 455 lb. and measuring 2m / 6 ft. 7 in. tall in seated position). In another special pavilion there is a Sleeping Buddha, also carved from a single slab of Burmese jade and brought to Shanghai by the same monk Huigen.
More than 70 monks hold daily services. The temple runs a vegetarian restaurant whose menu boasts so-called 'meat' dishes made from vegetarian ingredients such as pickled duck, sliced eel and chicken, all made of bean curd and vegetables. Sizzling (Crackling) rice and mushroom soup is strongly recommended.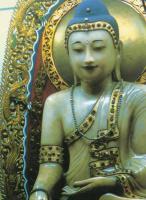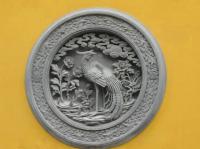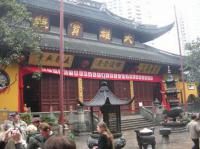 More Attractions in Shanghai
Recommended China Tours Including Jade Buddha Temple Shanghai