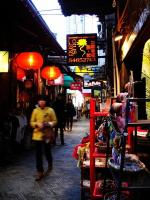 Tian Zi Fang is a narrow lane dotted with local style Shikumen Houses, which is one symbol of Shanghai folk culture. Located at Taikang Lu, just outside of exit 1 of Dapuqiao metro station on line 9, Tianzifang has become a major tourist attraction in Shanghai.
Renowned for its shikumen styled buildings that has been transformed and furnished into a tourist attraction the landmark embraces both historical and cultural aspects of 1900`s Shanghai. Nostalgic brick walls, pieced together with elaborately paved brick pedestrian roads make Tian Zi Fang all the more distinctive from other well-known but banal tourist sites. Walking down the narrow lane of Tianzi Fang, you would be wondering if you were really in cosmopolitan Shanghai.
The shikumen style of Tianzi Fang takes you back to the old China of the early 1900's. These charming little shikumen townhouses have been converted into shops. Numerous galleries and studios can be found here, as well as cafes, bars, restaurants and fashion shops.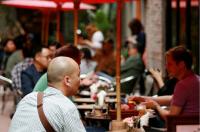 While many two storey cafes break out into terraces overlooking the rest of Taikang Lu, many wet clothes hanging on bamboo poles are also seen protruding from the balconies of neighboring townhouses. Nowadays, Tian Zi Fang draws many designers, fusionists and expatriates who are looking for ways to express their contemporary works of art, design and photography. The newer galleries are housed in Tian Zi Fang, a renovated factory building just outside the traditional commune space. Many resident painters focus on the colorful dress of China's ethnic tribes, or produce modern oil works with revolutionary imagery, both of which are popular with tourists.
And in Tianzi Fang there is a twisted tangle of quirky stores where you can get lost for the day, wandering in and out of shops and stopping for a tea or coffee every now and again. You also can rest at a variety of European restaurants and bars. Although the menus are pricy in comparison to the average meal in Shanghai and the amount of food on the plate may not satisfy your appetite, it is perfect for both tourists and locals who want a taste of something Western.
More Attractions in Shanghai
Recommended China Tours Including Tian Zi Fang Shanghai