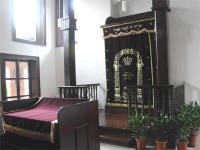 Located at 62 Changyang Road in the Hongkou District, the Shanghai Jewish Refugees Museum is an important component of the "Tilanqiao Historic Area" and serves as a witness commemorating the phase of history when the Jewish refugees lived in Shanghai.
Today, Shanghai Jewish Refugees Museum is a typical historic trace of Jewish refugee life inside China during the World War II. During 1933 to 1941, Shanghai became a modern-day "Noah's Ark" accepting around 30,000 Jewish refugees fleeing the Holocaust in Europe. In the "Designated Area for Stateless Refugees" in Tilanqiao area, about 20,000 Jewish refugees lived harmoniously with local citizens, overcoming numerous difficulties together. The place became a ghetto where both Jews and Chinese shared years of hardship.
There are three parts in Shanghai Jewish Refugees Museum, including the former site of Ohel Moshe Synagogue and two exhibition halls. Here, the original features of the Jewish settlement are still well preserved.
The original Ohel Moshe Synagogue was founded in 1907 and moved to its current site in 1927. It was a synagogue for Orthodox Russian and German Jews. The synagogue was also once the headquarters of the Jewish Youth Organization. The Jewish refugees lived a free and peaceful life around the former Ohel Moshe Synagogue. Between the end of the Second World War II and 1960's, many left China and immigrated to all parts of the world one after another. Being an important part of Shanghai Jewish Heritage, the former Ohel Moshe Synagogue was acknowledged as an excellent historical building. Now, converted into the Shanghai Jewish Refugees Museum, the three-storey house has been restored to its original state.
The first floor is the sanctuary where visitors can see the original mosaic floors and the ark. Old pictures of Jewish halls and houses built by Jewish tycoon David Sassoon hang on the walls. Next to the sanctuary, in the synagogue's former kitchen, is a showroom for Jewish art exhibits. The short film about the refugees living in Shanghai together with an oil painting and sculptures in the exhibition hall make that phase of history come alive. In addition, duplication of a refugee's passport, the Shanghai Jewish Chronicle, and a large stone tablet engraved with Rabin's inscription are also on display.
More Attractions in Shanghai
Recommended China Tours Including Shanghai Jewish Refugees Museum Shanghai