Guilin Family Travel Tips: Top Things to Do with Kids
China Family Travel Tips Guilin Family Travel Tips: Top Things to Do with Kids
Undoubtedly, Guilin and its surrounding areas is a perfect destination for the overseas travelers to have
family tours with kids
. Compared with those mega cities in the eastern parts of China, Guilin is much smaller in size, while it is featured with the stunning landscape and rich cultures, bringing the parents and children a blend of great travel experiences.
Here below are some useful travel tips for the family travelers to enjoy the splendid
Guilin tours
:
1.Best Time to Visit
Like many other cities in this country, the best time to visit Guilin is between September and November. There are usually more sunny days with mild temperature during the period. From April to August, it is the rainy season, which doesn't mean it is not good for sightseeing. On the contrary, you will appreciate another type of natural beauty with all the limestone peaks shrouded in mist. As it is located in the subtropical area, Guilin is quite hot and humid in summer. Sunglasses, hats, sunscreen lotion and mosquito repellent are needed while traveling here, especially to those rural places. It will be a good idea to find a hotel with a swimming pool in summer. Kids will love it. In winter time, the average temperature is about 8°C. It could drop below zero occasionally when the cold front arrives. People can see snow in the mountainous areas like Longji Rice Terraces. The first week of October is the National Day holiday, it will be very busy at every spot of Guilin. Please try not to come during the period.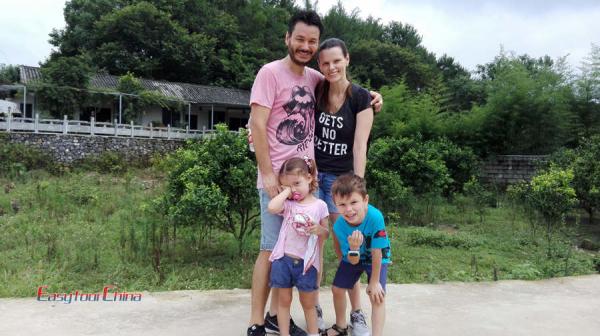 Though Guilin is a smaller city, the local delicacies will make your stay here a more enjoyable one, coming along with its picturesque scenery. Actually the Guilin cuisine is a mixture of Hunan cuisine to the north and Cantonese cuisine to the southeast as in history here used to be an important post connecting Northern and Southern China due to the use of Ling Canal. For the family travelers, you can easily find some food options for the kids. For example, Chun Ji Shao E (椿记烧鹅, Chun Ji Roast Goose) is a restaurant chain with 6 ones in the city and 2 in Yangshuo. By the way, the most celebrated snack here is Guilin Rice Noodle, it is absolutely worth a try. The famous local specialties in the area include Sliced Stewed Pork with Taro of Lipu, Beer Fish (Yangshuo), various materials like Tofu, Water Snail, Mushroom, Pumpkin flower etc. stuffed with minced pork, mushroom and other ingredients, Candied Taro. These dishes really cater to the needs of family travelers. Another recommended restaurant chain is called Mcfound (麦香坊), they offer a mix of Chinese and western cuisines, usually the kids will enjoy it, especially after traveling in this country for a few days, eating mainly the Chinese food.

3.Guilin Transportation
Guilin is a rather small city with daily flights and high speed trains connecting the major cities in China. Due to its size and population, there is no subway/metro available here. If you stay at a hotel in the city center, then a stroll around the lakes or along the Li River is a lovely experience. If your kids are 12 or older, you can even rent bikes to go around the city. The taxi fare is also very reasonable. Please make sure to take a licensed taxi. Otherwise, you might possibly be ripped off. Besides the city itself, there are 2 other popular destinations nearby for international travelers, namely, Yangshuo County and Longji at Longsheng County. Yangshuo is about 64km to the south of the urban city, while Longji finds its place 80km to the northwest of the city downtown. The three sites (Guilin, Yangshuo and Longji) are linked by the express way. If you want to visit all of them, it is necessary to make a good plan in advance. A good travel agent can design an ideal itinerary to suit the needs of the couples traveling with their kid.
4.Air pollution
Luckily, Guilin is not a heavy industrial city, but a beautiful tourist city. The air pollution is much less than that in big cities. It is not a concern for international travelers, especially if you go to the rural areas of Yangshuo and Longji. You can not only see the breathtaking landscape, but also breathe the fresh air and relax.
5.Medication
When traveling to China with kids, you can bring a travel medical kit with all necessary medication inside for any emergency. Just imagine that if your kid is running a fever at midnight, and you don't read Chinese, pharmacy workers often don't speak English, and a substitute medication can't be found. Therefore, it is best to prepare for the potential cold, fever, diarrhea, headache, pain pills and any other medications you normally need.
6.Restroom
In China, the squat-style toilets are widely adopted, especially in public restrooms. While in a big city like Shanghai, western-style toilets are more often seen. If the younger kid has never used squat-type toilet before, parents should go with them and help him/her to squat. Possibly they can't squat that long or may step into the hole accidentally. Besides, some public restrooms might not be well maintained with wet floor. Nearly all the free public restrooms don't offer toilet paper or liquid soap. It is suggested that you should always have a pack of tissues and a travel bottle of hand sanitizer with you.
7.In the public areas
When you and your families walk along the street or in a park, some Chinese may come up to you, asking if they can take photos with your child. Especially those adorable Caucasian kids are their stars. For many Chinese living in smaller towns or countryside, they hardly see the doll-like foreign kids in their world. So all they want is to take a selfie photo with your children as a memento.
When you walk on the sidewalk, or in a public square, you still have to be cautious as some cyclists and e-scooter riders may go on the same way from different directions. This can be a bit dangerous if the younger child run a bit far from the adults.
8.Travel safety
Generally speaking, China is a very safe country. The crimes against foreigners are hardly seen. We still have to be very careful about our children while traveling in a strange country. If you travel with the family during the high season, the airports, train stations and tourist attractions are overrun with Chinese travelers. In those extremely busy tourist spots, you may adjust your travel plan to visit at a different time if possible. These places might not be suitable for younger kids to explore when they are packed with tourists.
Please note that while in Guilin and its surrounding areas, some travelers may want to do some hiking, cycling, bamboo rafting or caving, just plan your trip based on your own condition and the advice of your travel agent. After all, safety is the top priority.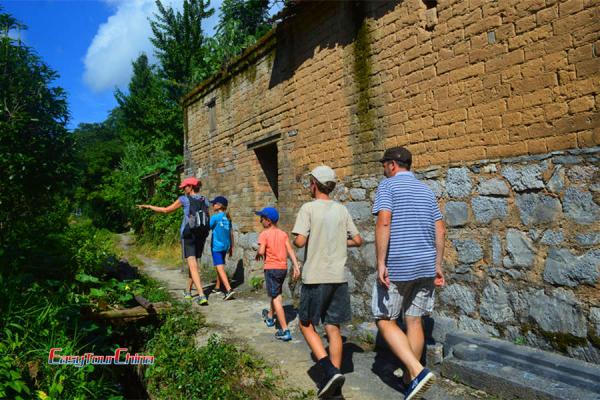 Best Places to See & Top Things to Do for Traveling with Kids in Guilin:
It has long been considered as the must-do for most of the travelers while in Guilin. For the family traveling with the children under 7, this is the best option for them to enjoy the stunning landscape in a leisurely and easy way. The air-con boat with a sun deck will definitely make your family trip here a pleasant and relaxing journey (3.5-4 hours) on the picturesque Li River.
This is an alternative option of the Li River cruise. And many people would like to try both, as the two options are quite different. Unlike the shared boat cruise on the Li River, there are only 2 chairs on the raft rowed by a local farmer. If your child is 7 years old or above, then your family enjoy the peaceful journey down a beautiful Yulong River, with stunning limestone peaks, villages, farmlands on the both sides. It is quite fun to go down the small dams built on the river when the water comes up to the place where you put your feet.

Cycling or hiking in the countryside of Yangshuo
For the kids full of energy, we recommend you to do some hiking or cycling, especially in the rural areas like Yangshuo and Longji. A good travel agent will find you a good place to start and end the bike trip to avoid the traffic on the roads. The distance and duration can be customized to suit the needs based on your physical condition. This will be a good chance for the children to get to know the nature and the lifestyle of locals.

3-day Yangshuo Family Adventure: Biking, Walking & Farm Work

Participating in some courses
While in Guilin and Yangshuo, some unique cultural experiences can be added into your tour program. Travel is more than sightseeing, when you and your family can learn, and immerse yourselves into the different culture. Here, you can pick the activities like Taiji/Kung Fu, brush painting, calligraphy, cooking courses, etc. Your family will definitely know more about Chinese culture after these courses.

See the Longji Rice Terraces and visit the old village of minority people
Longji Rice Terraces is another big draw in Guilin area. Possibly it might not be suitable for the infants and toddlers. Children at other ages can all come here to see a different facet of China. The rice terraces were cultivated by the local Zhuang and Yao ethnic people more than 600 years ago. Both the adults and kids can not only appreciate the grandeur of the man-made wonder, but go and explore the old villages of these minorities, where their traditional lifestyles have been well preserved for long. This is an absolutely unique travel experience while in China.
Keep reading: