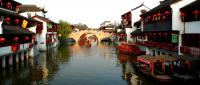 Qibao means "Seven Treasures" in Chinese and the town got its name from a legend that referred to seven treasures in this area. Qibao ancient town is an ancient town in Shanghai municipality about 15km south of Shanghai city. With a history of more than 1000 years, it is one of the most important historical sites in Shanghai.
Qibao is a small town, which dates back to the Northern Song dynasty. Easily reached from town, the ancient settlement prospered during the Ming and Qing dynasties. The small town is about two square kilometers in size which is crossed by two canals. Around the canals, a large number of traditional houses, gardens, temples, shops and restaurants which define the very character of the place can be found.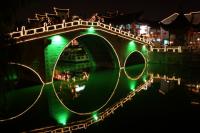 With a history spanning over one thousand years, Qibao is more than just a living fossil of ancient Chinese conurbation and urban planning. In the center of Qibao Ancient Town is the old street, which is said to best resemble the streets of old Shanghai. This old street is divided into two smaller two sections, the southern and western lesser streets. The southern part is filled with traditional restaurants serving a variety of tasty snacks. Different flavored cakes made from polished glutinous rice 'Qibaogao', dried bean curd wrapped in lotus leaves, roasted sweet potatoes, smoked toads, and sugar coated haws on sticks can be found on every corner in the southern street.
The western streets are occupied by old shops selling arts and crafts, antiques and calligraphy works. In this part, you can see the Qibao Pharmaceutical stores dating back around 1,000 years, some fine tea houses and Shadow Play Opera theaters. The Qibao Shadow Play performs mainly entertainments based on widely-known historical events with the local dialect, thus giving the shows a truly local character. The plays are performed using colorful drawings and expressive music to illustrate the emotions of the characters.
Qibao Ancient Town is a good place to explore Shanghai's grand past. A day spent in this unique and historic town will be very rewarding and is highly recommended. It can satisfy your curiosity about ancient water townships without the bother of either long distance or the rush of crowds.
More Attractions in Shanghai
Recommended China Tours Including Qibao Ancient Town Shanghai