Xintiandi is a fabulous Shanghai attraction, rebuilt by unique architectures of Shikumen, and showcase the culture of Shanghai in the past and present. Located at the city center of Shanghai, and only one block south of the prestigious Middle Huaihai Road and its Metro station, Xintiandi is an affluent car-free shopping, eating and entertainment district of Shanghai. Covering an area of 30,000 square meters and a gross floor area of 60,000 square meters, Shanghai Xintiandi features a multitude of specialist F&B, retail, entertainment, cultural, recreational, commercial and residential facilities in restored "Shikumen" houses.
Based on Chinese and western culture, antique residences and new designs, traditional style of Shikumen lanes and modern buildings have been combined in Xintiandi. Xintiandi means "new world", and is considered one of the first lifestyle centers in China. The success of the project could have even greater impact as a role model for historical redevelopment not just in China, but across Asia. Considered as "new landmark" of Shanghai - replete with fashionable glamour and modern elegance, Xintiandi aims at providing a platform to nurture Chinese designers and allow them to communicate with world-class international designers. The building represents modern Shanghai history and culture.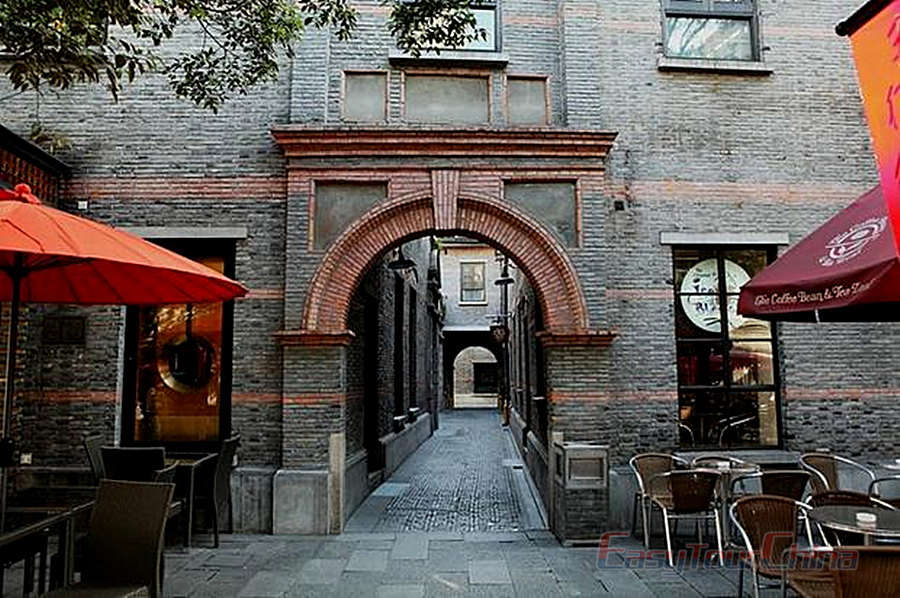 If you visit Xintiandi in the day, you can find more atmospheres of Chinese traditional feature; when the night falls, the romance that fills Europe type amorous feelings. There are clusters of bars, open-air cafes, upscale stores and restaurants of different types of cuisines, you can experience colorful night life of Shanghai here. Otherwise, the Former French Concession and the famed lanes of Tianzifang are close to Xintiandi, you can enrich your Shanghai city tour with them as well.
Facts
- In Chinese: 新天地
- Address: Lane No.181, Taicang Road, Huangpu District, Shanghai
- Opening time: all day
- Best time to visit: 16:00 - 21:00 to enjoy night life
- Ticket price: free
History & Development
Shikumen residence in Shanghai rose in 1860s. In 1860, when the Taiping Army led by Li Xiucheng, a king of Taiping Tianguo Kingdom, launched its eastward revolution, a large number of refugees poured into Shanghai. Many dwellings have been built in the concession at that time. In order to cater to the traditional Chinese big family living style and combine with western architectural style, Shikumen residences were built. With the change of Shanghai residents' family structure to small family structure, residents' living habits have also changed significantly, and the structure and style of Shikumen residence have changed. After the 1930s, due to the housing shortage in Shanghai, most of the Shikumen residences changed the original intention of the design and became multi-family residences.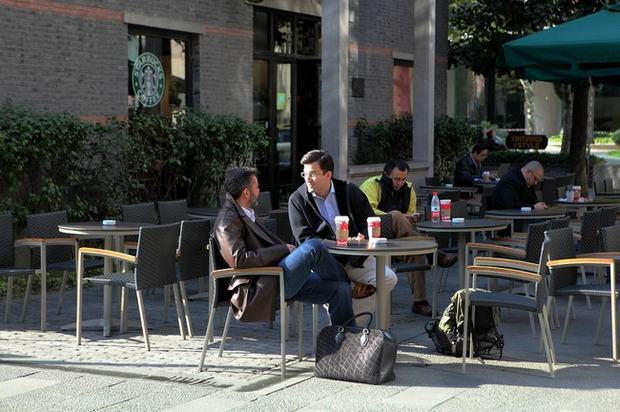 However, with the development of the city, the formerly glorious Shikumen gradually faded out the historical stage as it could no longer satisfy people's demands of residence.
After the cooperation and transformation of famous designers at home and abroad, nowadays, Xintiandi is divided into the North and South Blocks by Xingye Road, which is the site of the First Congress Hall of the Chinese Communist Party. In the North Block, it's made up of some Shikumen residences, scattered many high-end consumption places and restaurants now. Antique buildings with their modern interior design, decorations and equipment play host to a dazzling array of restaurants specializing in different countries such as French, American, German, British, Brazilian, Italian, Japanese, Taiwanese and Hong Kong cuisine, which fully revealing the international dimension of Shanghai Xintiandi. As the complex of shopping, entertainment and leisure, the South Block covers 25,000 square meters and opened in the middle of 2002. There are mainly modern buildings in this block, setting up exquisite stores or boutiques, which strongly appeal to the youth. The glass wall building has a very modern atmosphere.
Things to Do
1. Appreciate buildings of Shikumen style and know the lifestyle of old Shanghai. The buildings here has long history, and its unique architectural style can only be seen in Shanghai. When you walk through the lanes and alleys here, you can imagine how the locals live.
2. Enjoy night life at leisure and amusement zones. Restaurants from all over the world, boutiques, fashionable ornament shops, food courts, cinemas and one-stop fitness centers provide entertainment and leisure facilities. It's a good choice to take your time and have a rest here after a day tour.
3. Shop at designed plazas and boutiques. Nowadays, Xintiandi is a fashion gathering place in Shanghai, you can also find amazing handicrafts and artworks here.
How to Get There?
Metro Line 10 or 13 runs to Xintiandi Station, it's convenient for you to find the right place.
If you take bus, Bus 42, 911 and 926 can take you to South Huangpo Road, then you can reach Xintiandi after a short walk.
More Attractions in Shanghai
Recommended China Tours Including Xintiandi Shanghai