Famous Xian Food: 10 Iconic Foods to Try in Xian
Famous Xian Food: 10 Iconic Foods to Try in Xian
When you think of Xian, you think the Terra Cotta Army. However, China's ancient capital not only boasts one of world's greatest historical wonders, but also has the longest culinary history that can be traced back to thousands of years ago.
What type of food is in Xian?
Making the most of pasta, Xian cuisine stands out with a diverse array of noodles, dumplings and steamed buns. For foodies and tourists, make sure you try at least several of the most famous Xian foods, and spoil your tastebuds with a wide spectrum of street foods in Xian, while witnessing the interesting gastronomic scenes. Explore the snack street of Muslim Quarter, the famous food street in Xian and the best place to experience the local buzz and feast on the various Xian delicious foods.
1. Qishan Saozi Noodles (Minced meat noodles) – 岐山臊子面
A traditional dish and one of most famous foods in Xian, Saozi Noodles taste spicy, sour and smells sweet. Qishan area in Baoji City is most celebrated for saozi noodles.
With a history of over 3000 years, Saozi noodles are very easy to make, with side dishes such as tofu and eggs. Saozi means diced meat. For Shaanxi people, the color matching of saozi noodles is particularly important. Yellow egg rolls, black fungus, red carrot, green garlic sprouts, white tofu and other materials together make sure the noodles both good-looking and delicious.
>> Also read 8 Famous Noodles to Try in China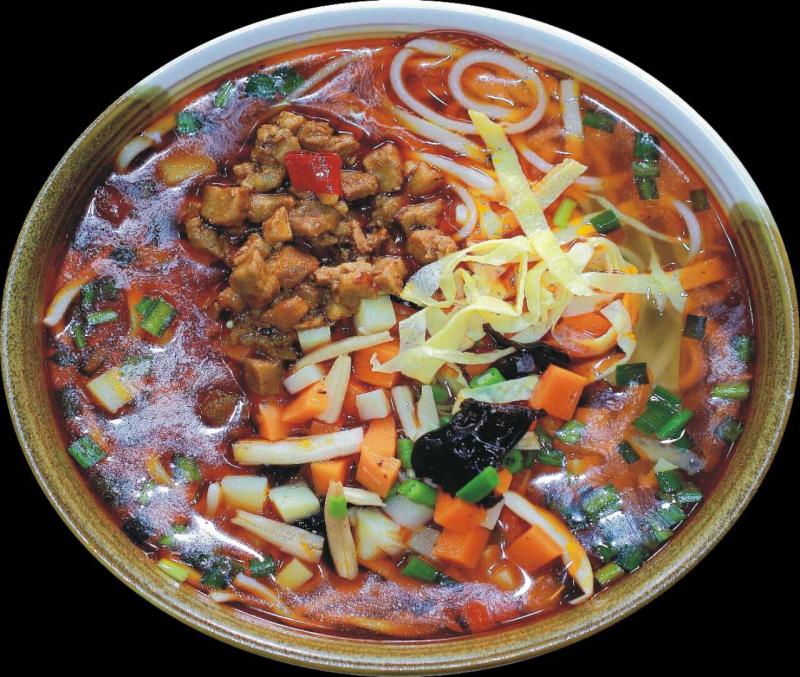 2. Lamb or Beef Paomo – 泡馍
A traditional Northwest Chinese style dish, Paomo is one of the most popular foods in Xian. It was first served as the feast for the king in the Western Zhou Dynasty (1046-771BC), with beef and mutton as the main food materials.
Inexperienced people sometimes like to stir it with chopsticks before eating -- this is a taboo. The Shaanxi local people eat it from one side bit by bit, so as to ensure that the soup is not separated from the mo, and the mo can keep the fresh taste. People can coriander, chili sauce, sesame oil or sugar garlic seasoning, according to their own taste. They also like to drink a bowl of soup after eating.
3. Rou Jia Mo / Rougamo (Chinese hamburger with cured meet) - 肉夹馍
The most popular street food in Xian, it is also named Chinese hamburger.
In Shanxi Province, there is cured meat Rougamo (using white steam bun), Saozi Rougamo (add vinegar in the minced meat) originated from Xifu, Baoji City, Tongguan Rougamo (unlike white steam bun, ongguan Rougamo is brown with clear stripes and cold minced meat inside, and tastes crisp yet tender.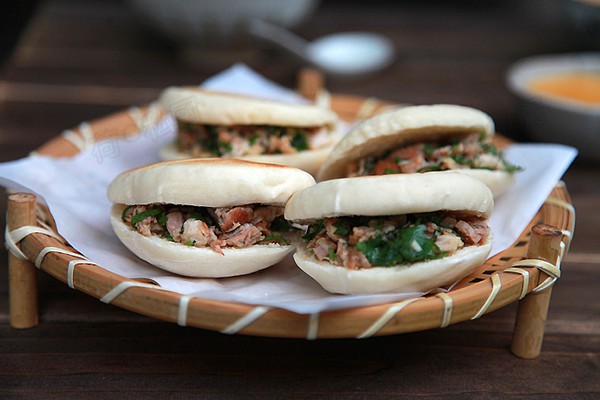 4. Hu La Tang (Soup with Pepper and meatballs) – 胡辣汤
Also a famous food in Henan Province, making the most of seasonal ingredients, Xian locals usually has it for breakfast.
It is cooked in a soup prepared in proportion from a variety of natural Chinese herbs with chili, pepper, beef, bone broth, cornstarch, fine vermicelli, day lily, peanuts, agaric, etc.
Served as breakfast, Hu La Tang is a perfect match for fried dough sticks, steamed stuffed bun, green onion cake, fried helmet, or thousand layer cake.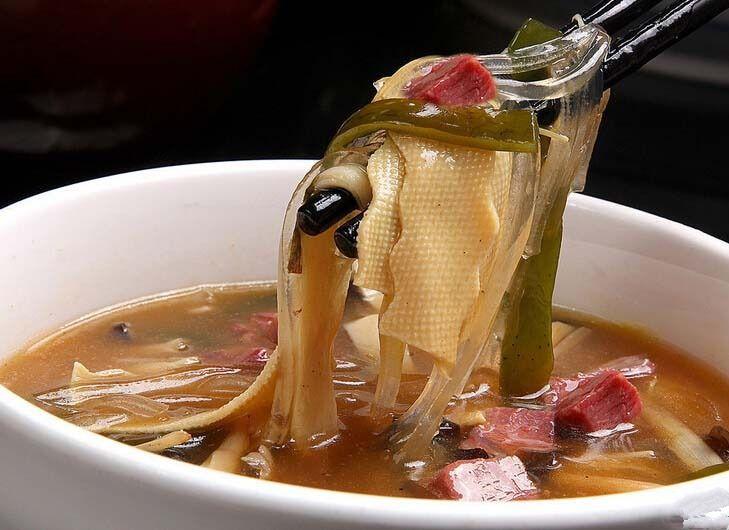 5. Cold rice noodles - 凉皮
Famous in Xian, as well as the whole country, Cold rice noodles a traditional food of the Han nationality, originated in Guanzhong area of Shaanxi Province.
Due to different raw materials, production methods and regions, there are several types of cold rice noodles, including hot rice noodles, rolling rice noodles, baked rice noodles, stuffed rice noodles and so on, each with different flavors, such as spicy cold rice noodles, sour and sweet cold rice noodles, spicy and other flavors cold rice noodles. Cold rice noodles is said to date back to the time of The First Emperor of Qin, more than 2000 years ago.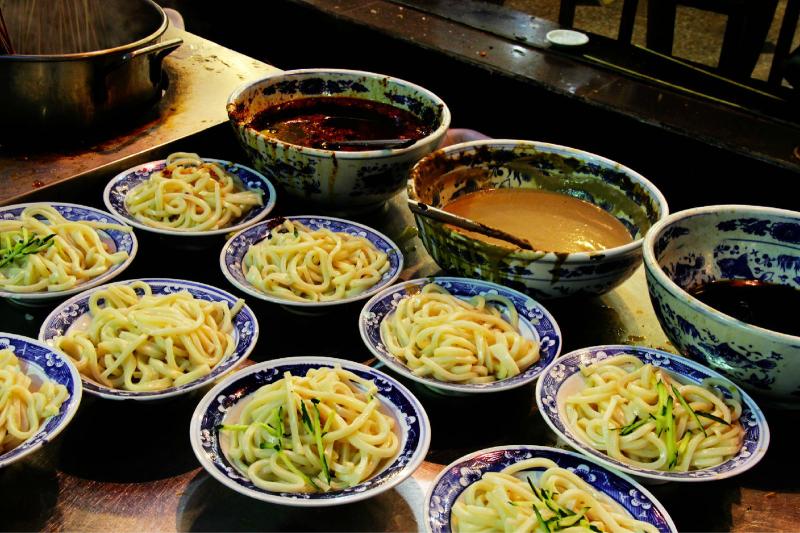 6. Shannxi style Pickled Beef – 陕西腊牛肉
It is a traditional and one of the most popular Xian food. The beef is roasted and pickled with candy, wine, salt and soy.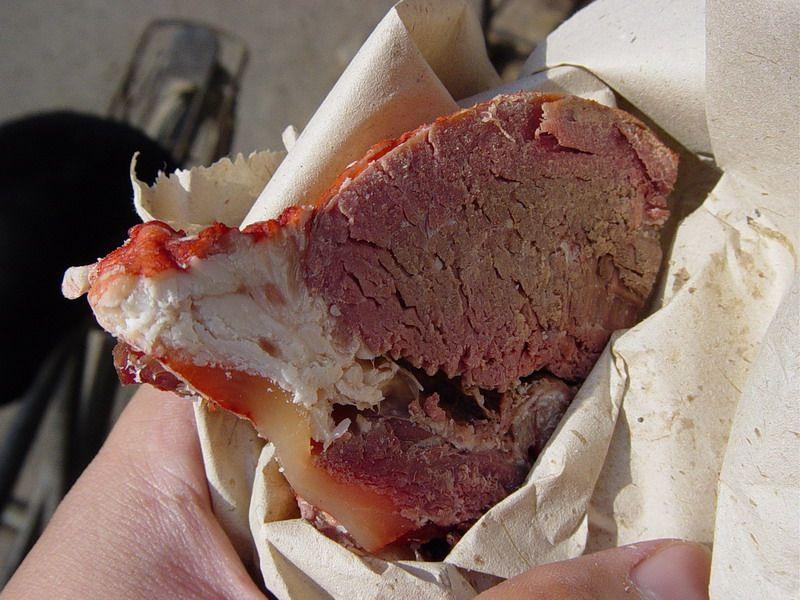 7. He le - 饸饹
A traditional famous noodle in Xian, it is a kind of noodles that is favored by people in North China such as Shanxi, Hebei, Inner Mongolia, Gansu, Ningxia, Qinghai, Xinjiang and Henan.
Rub together the hele peas, naked oats, buckwheat until it is soft, and put the dough on a he le bed (a wooden or iron tool with many round eyes), small round strips then come through the round eyes. He le is thicker, softer than normal noodles, yet still cooked in a similar way.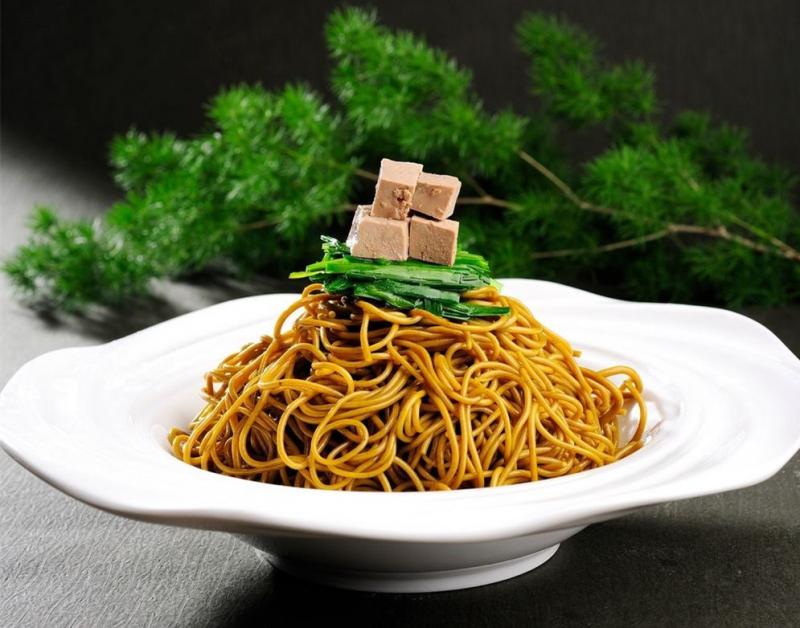 8. Steam Bun (Soupy dumpling) – 灌汤包
A most famous Xian food, steam bun is a must for locals, and for travelers as well. The steam bun in Xian is stuffed with lamb or beef, instead of pork.
There are two famous steam bun shops in Xi 'an: Jia San Tang Bao (贾三汤包), nearby the Drum Tower and right on Muslim Quarter; and Xiao Liu Tang bao (小六汤包), a chain operation, which has more than 10 shops. How to choose between the two shops? Jia San Tang Bao provides all halal steam bun, while Xiao Liu Tang bao feature a variety of steam buns, with meat fillings, beef fillings, lamb fillings, chicken fillings, shrimp fillings, as well as vegetarian fillings.
>> Also Discover the Most Popular Chinese Breakfast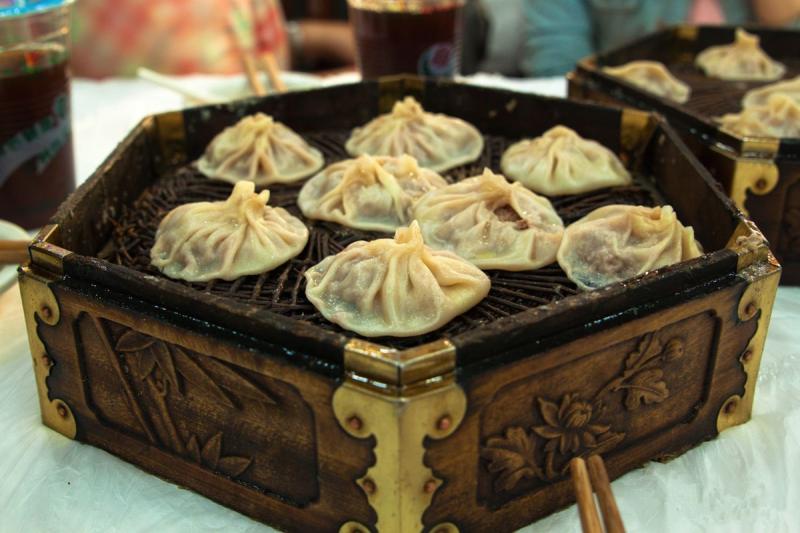 9. Guo Kui - 锅盔
A famous Xian street food, it is a local pancake, two feet in diameter, round and thick, looking just like a lid. Guokui of Qianzhou is considered to the most authentic and delicious.
Guokui is made with flour and oil baked on gentle heat. It is hollow inside and crispy ourside. Ruzhou people think that Pot head meat is a perfect match for Guokui.
There are spiced, salted guo kui, scallion guo kui, green pepper guo kui, and guo kui with stuffing.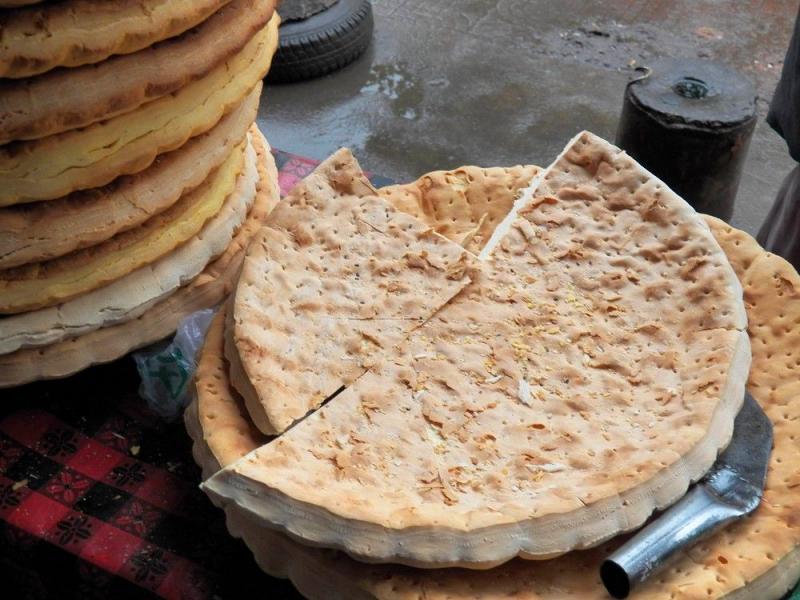 10. Yangyu Ca Ca (Xian version of fries) – 洋芋擦擦
Another popular street food in Xian, the production raw materials and procedures of Yangyu Ca Ca are very simple. Slice potatoes, mix potatoes slices with dry flour, so that each slice is evenly wrapped in a layer of flour, and then steam the slices on the steamer.
When it is done, put the potatoes slices into a bowl, and add mashed garlic, chili power, sauce, vinegar, onion oil or sesame oil, and the homemade tomato sauce. So delicious!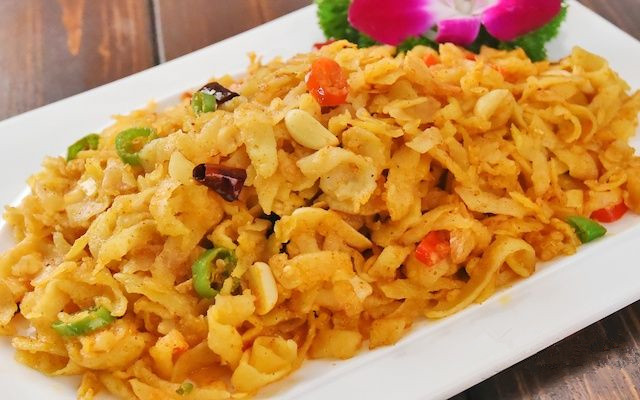 Recommended China food tour to Xian:
15-day China Culinary & Cooking Tour
Leave a Comment