Jiaozi, Chinese dumplings with meat and vegetable fillings, is a traditional Chinese food with around 2,000-year history. The dumpling can be anything from a quick snack to a delicacy, and eaten at any time of the day – breakfast, lunch or dinner. It is quite popular in China, and also loved by most of foreign tourists. And, the most famous dumpling serving is in Xian - dumpling banquet.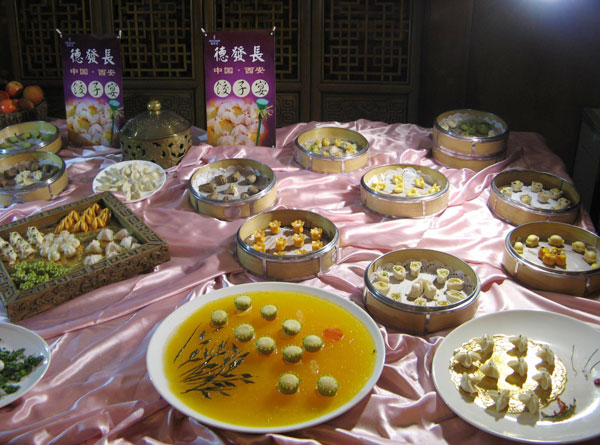 Development
Xian dumpling banquet is a newly created feast style. It emerged on the basis of the traditional dumpling recipe in Xian Dumpling Restaurant and De Fa Chang Dumpling Restaurant. Later, the dumpling is brought forth new ideas in its color, fragrance, taste and style; meanwhile, is added ancient culture. Cooking methods of the dumpling banquet include steaming, boiling, pan-frying, deep-frying, and roasting. The fillings for dumpling include various meats, vegetables, and seasonings. Many flavors, including salty, sweet, hot, and sour are offered. Concerning the style, they make out various pretty and lovely styles such as flower, bird, grass, and fish, ect.
Specialty
With these new ideas, the dumpling banquet offers over 108 different kinds of Chinese Dumplings. And elegant names are given to different themes of the banquet, such as "Dragon and Phoenix Feast", "Peony Feast", "Floral Feast", "Palatial Feast" and " Eight Treasures Feast", etc. Each themed feast might consist of 15 to 20 different types of dumpling resembling different shapes and fillings. They are served according to the number of guests at the table. Even if you eat fast, you won't be able to get a second dumpling of the same style.
Xian dumpling banquet is indeed a mixed combination of good-looking, good smelling and good taste. It is said that to visit Xian without seeing the fantastic Terracotta Army as well as enjoying a dumpling banquet means that you have not really been to Xian at all!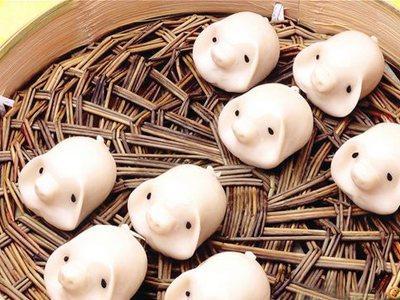 Leave a Comment