If you're like me, when you order Chinese take out you get one of the more popular dishes, General Tso's chicken or fried rice or one of the familiar items on every menu. But one day, quite by chance, I was given the wrong order, and not only did this twist of fate change what I would order every time I got take out in the future, but I ended up learning how to make this amazing dish at home. I'm talking about Moo Goo Gai Pan (蘑菇盖饭), perhaps you've seen it but never tried it? I was in the same boat until I was given it by a happy accident. So, if you want to learn how to make what is truly an amazing dish read on in our article titled moo goo gai pan: what is the best recipe?
First let's find out a little more about this delightful dish. Moo Goo Gai Pan is of Cantonese cuisine origin primarily made with chicken and mushroom and is a famous Chinese takeout. But unlike Hunan and Szechuan, Cantonese food is not spicy. In fact, it incorporates as little seasonings and spices as possible. Cantonese cuisine is designed to bring out the natural flavors of meat and vegetables used in their dishes. Many will think that Cantonese food is rather bland because of this. What they don't realize is that this is what makes Cantonese food a lot healthier and natural. It is famous for dim sum. But, little do people know that it also has its own chicken stir-fry version in the form of moo goo gai pan. When we crave some Chinese food, we resort to this easy recipe as it is not hot and spicy, but just perfect for the hot weather of summer. Moo Goo Gai Pan, or "mo gu ji pian", means mushrooms and sliced chicken. It originated from a Cantonese dish and slightly transformed when it became one of the most famous American-Chinese dishes.
So, now that we know a little about the history moo goo gai pan, let's get right to the good stuff, the recipe that will make everyone of you dinner guests mouth water: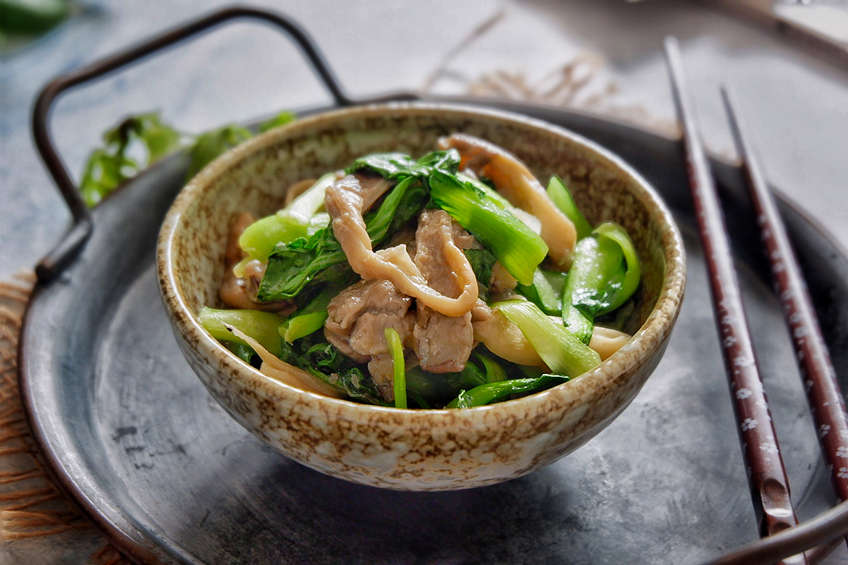 Ingredients
1 pound chicken breasts (boneless, skinless and thinly sliced)
3 tablespoons canola oil (divided)
1 cup snow peas
1 cup carrots (thinly sliced into rounds)
1 can of 15 ounces Chinese stir fry veggies (Mushrooms, Water chestnuts and Bamboo Shots) (drained)
Sauce:
2 tablespoons cornstarch
4 cloves garlic (minced)
1 teaspoon minced ginger
1 cup chicken broth
2 tablespoons oyster sauce
1 tablespoon rice vinegar
2 tablespoons brown sugar
2 tablespoons soy sauce
Instructions
Combine all the sauce ingredients in a medium bowl and stir until fully combined and cornstarch is dissolved. Set aside.In a large wok or skillet over medium-high, heat 2 tablespoons of canola oil. Add the chicken in one layer (if needed cook in batches), and cook until golden and done, for about 6-8 minutes, stirring occasionally. Remove chicken from pan and set aside on a plate.To the same skillet add the remaining tablespoon of oil, add the carrots, stir fry veggies and snow peas. Sauce for about 6-8 minutes, just until tender.Add back the chicken, give the sauce a good stir and pour it over the chicken. Toss to combine and let the mixture come to a boil, reduce heat to low and simmer for 2-3 minutes, stirring occasionally, until the sauce thickens.
Now that you have the recipe you can begin your moo goo gai pan adventure. This is one of the most tasty and, believe it or not, healthy meals you can have when you are craving Chinese food. Another great fact about moo goo gai pan is that the ingredients are very inexpensive and easy to obtain. It's a quick meal to make too, so the next time your family is asking for takeout, surprise them by cooking this fantastic meal, it will be finished cooking before the takeout would have arrived anyway, so there is really no reason not to try this classic meal.
-- We're honored to have Krisna Garcia to write this article.
And if you want to know more about Chinese cuisine and learn to cook popular Chinese dishes, why not take one of our China food tours.
Leave a Comment