For international Muslim travelers to China, it is not so difficult to find a Muslim restaurant with halal Chinese food in the major tourist cities of China like Beijing, Shanghai, Xian, Chengdu, Guilin, Guangzhou, etc. It is because there is a Muslim population living in many cities of China. What is more, some Muslims coming from West China opened the Halal food restaurants in these tourist cities as well.
Here below are some tips of finding a Muslim restaurant: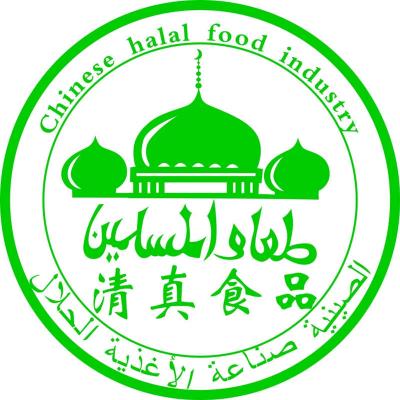 1.Whether you travel with a tour company or independently for China Muslim tours, you are suggested to do some research on Internet in advance. When you arrive in China, the tour guide or hotel concierge may not have the knowledge of Muslim restaurants in the city. You can simply search the keywords like "city name + Muslim restaurant" on Google and visit Tripadvisor.com, then you can see some useful information. Please write down the name, contact number and address of the restaurants (If possible, with the Chinese names). If you don't have the Chinese name, you can ask the tour guide or hotel concierge to call the restaurant to get the relevant info, and write down the name and address in Chinese. So the taxi driver can read it and transfer you there.
2.To find a local Muslim restaurant without any info at hand, you can simply walk along the street and pay attention to the restaurants with a signboard of Islamic green color, on which 2 Chinese characters "清真" were written, plus Arabic "حلال" or English "Halal". Then it is for sure the place you are looking for. If the small eatery is not located in a Muslim quarter, then it is most likely to be the Lamian (Hand-pulled) Noodle Restaurant run by ethnic Hui people or Kebab restaurant run by Uyghurs.
3.In many cities, there is a Muslim quarter, where you can see all kinds of Halal Chinese food restaurants. If you can find the place, then there is no need to worry about dinning.
Here below is a list of Muslim quarters in different cities of China
In some cities, we can't see the Muslim quarter or street, then just look for the mosques. In most cases, you can always find a restaurant to dine near a mosque.
Some popular Islamic halal Chinese food:
Lamian (拉面)
It is a popular Muslim dish of hand-pulled noodles in China, served with a beef or mutton soup. You can also request to have stir-fried Lamian in restaurants, which is usually cooked with eggs, tomatoes and bell peppers. We can often see Lanzhou Lamian Restaurants on every corner of the city, mostly they are run by the Muslim Hui migrants from West China. In some extent, Lamian has become one of the fast food options for average Chinese people. There could be some non-Muslim Lamian restaurants in the country, please check with the signboard of the restaurant and the costume of the chefs and waiters (all wearing white skull caps).
Nang (馕)
As the most popular staple food of Muslims in Xinjiang, Nang is a type of unleavened oven-baked flatbread, topped with sesame. It is similar to South and Central Asia naan. It is said that there are more than 300 different kinds of Nang in Xinjiang, in terms of the ingredients, sizes and patterns. It is a must-eat in the Uyghur restaurants.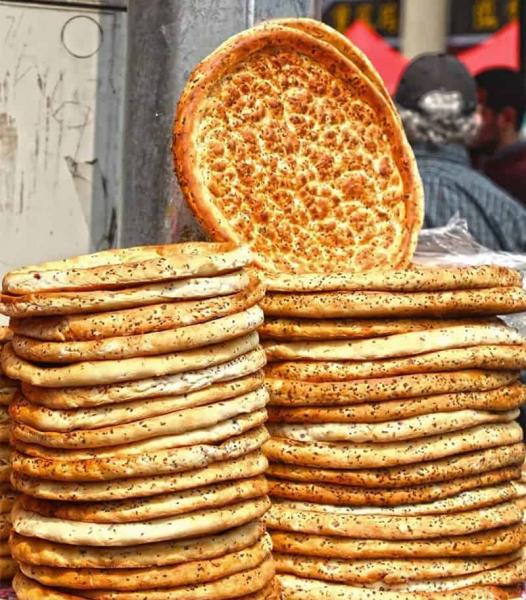 Kebab (羊肉串)
Kebab is an Arabic word meaning cooked meat without water. In North China, it is called Chuan Er (串儿). Xinjiang, the major habitat for ethnic Uyghurs, is arguably thought to be the birthplace of Kebab in China. Nowadays we can see more and more Uyghur-run Kebab restaurants appeared in different cities of China. Actually the younger generations began to accept the exotic way of cooking and enjoy the grilled lamb of Muslim style.
Sautéed Spicy Chicken (大盘鸡)
This is another famous dish in Xinjiang, but it is not the traditional Uyghur food. It was born in a Muslim restaurant of Tacheng region in Xinjiang in 1980's, catering to the long-distance truck drivers. Later, it became widespread all over Xinjiang. In 2018, the dish was nominated as one of the Top Ten Dishes in Xinjiang.
Hang-grabbed Lamb (手抓羊肉)
The dish is a Muslim delicacy originated from the ethnic Kazak tribes, and spread to other ethnic groups like Uyghur, Hui, Mongolian, etc. The lamb with bones are boiled and simmered long until the meat is completely soft and tender. People use their hands to pick up the meat to eat, usually served with the mixed sauce. After that, they can also end up drinking the nutritious soup.
Pita Bread in mutton/beef soup (羊/牛肉泡馍)
It is one of the most famous staple foods among the Muslim Hui people in Shaanxi Province. The diners hand-break the bread into small pieces, which will be cooked in lamb/beef broth and served with meat, vermicelli, scallions, garlic sprouts and coriander. It is recommended to have a try of this local specialty when you are in Xian.
Actually there are many more Muslim halal dishes in China, here listed are just very few of them. We believe those restaurants will never let you down. Of course, in those big cities, you will have many more options to dine at different levels of restaurants. If you plan to visit some smaller cities, you are suggested to collect some information before you go, which will be easier for you to find the right place to eat.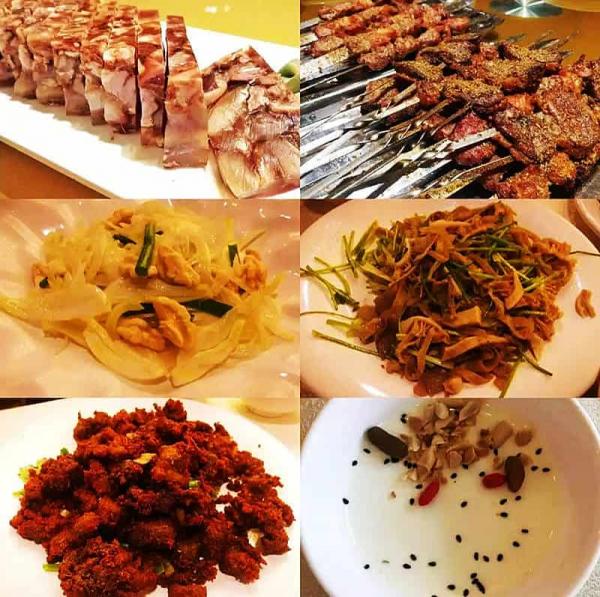 Top Ten Muslim Food Restaurant Brands in China with authentic halal Chinese food (2019)
1.Dong Lai Shun (东来顺), Donglaishun Group Co., Ltd, Beijing
2.Yershari (耶里夏丽), Yer-shari Industrial Co., Ltd, Shanghai
3.Yan Chun Lou (燕春楼), Yanchunlou Restaurant, Tianjin
4.Yi Si Mei (伊斯美), Yisimei Halal Food & Beverages Management Company, Shenyang, Liaoning
5.Xiao Zhuo Xuan (小酌轩), Xiaozhuoxuan Food Culture Co., Ltd, Yinchuan, Ningxia
6.De Long Lou (德隆楼), Delonglou Delong Yipin, Yinchuan, Ningxia
7.Fu Yuan (福苑), Fuyuan Industrial Co., Ltd, Guyuan, Ningxia
8.Si Shi Jiu (四十九), Sishijiu Food & Beverages Management Co., Ltd, Urumqi, Xinjiang
9.Qi Shi Qi Wan Nian (七十七万年), Qishiqiwannian Food & Beverages Co., Ltd, Urumqi, Xinjiang
10.Yi Ning Zhai (伊宁斋), Yiningzhai Food Service Co., Ltd, Wuwei, Gansu
Leave a Comment