One of the most modern and cosmopolitan cities in the world, Hong Kong is considered a "Culinary Paradise". With a large diverse population that lives and works there, Hong Kong boasts a wide variety of cuisine and restaurants from different regions around the world. The city can offer a different flavor experience on every visit. But what about the Chinese food in Hong Kong? Hong Kong Chinese food (Hong Kong style Chinese food) is a diverse fushion of Chinese and western style cooking.
Hong Kong Chinese Food History
In its earliest days, Hong Kong was a sparsely populated farming and fishing village, primarily inhabited by fishermen. The fishing industry provided an important food source for the early settlers. Dried fish provided sustenance to early sailors during the long voyage with no refrigeration. It later evolved into the Hong Kong Chinese Food classic - haam yu (鹹魚, salted fish).
If you are interested in Hong Kong's dried seafood, simply stroll the streets of Sai Ying Pun (西營盤) when visiting Hong Kong, like Des Voeux Road West and Mui Fong Street. Many dried seafood stores still exist, and they are stocked to the brim with dried abalone, sea cucumbers, fish maws, mushrooms, and other items.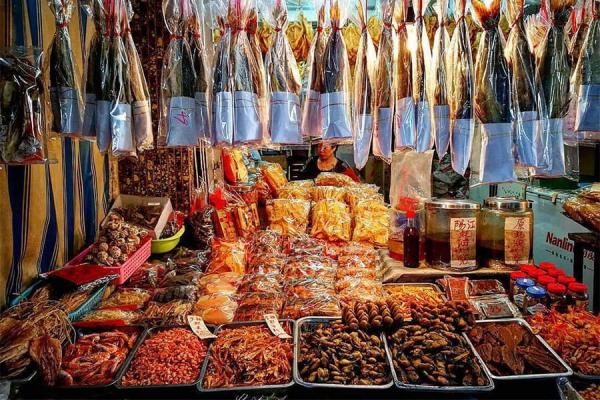 Hong Kong became a British colony in 1842 after the Qing Dynasty of China ceded Hong Kong to the British Empire. The British and Western merchants brought new cuisine (like pastry), while Chinese emigrants from Canton (present Guangzhou) introduced basic Cantonese food to Hong Kong.
After World War II, a large number of Chinese people from mainland China settled in Hong Kong, including those from Shanghai and the Yangtze River Delta, bringing Shanghai cuisine to Hong Kong. In the meanwhile, famous chefs from Canton of Guangdong Province also settled in Hong Kong. They introduced fine dining specialties from Canton. These immigrants brought more change to Hong Kong Chinese food.
Further Reading:
Eat Like a Local in Shanghai: 8 Traditional Breakfast Shops
Top 5 Popular Hong Kong Chinese Food
There are numerous delicious options when it comes to Hong Kong Chinese cuisine, which can be overwhelming, especially for first-time visitors to Hong Kong. Here we've narrowed down a list of the five most famous Chinese food in Hong Kong for your inspiration:
1. Dim Sum (點心)
Dim sum is an iconic symbol of Hong Kong cuisine, though it's believed to have originated in Canton. It's the top must-try Hong Kong Chinese food when touring Hong Kong. Having dim sum allows you to experience traditional Cantonese yum cha culture in addition to some delicious treats. It's very common to see Hongkongers having dim sum meals with family members in a Chinese teahouse.
Literally meaning "touch of the heart", dim sum will definitely win your heart with a wide assortment of tasty bite-sized dishes. Here are some of the most popular pieces to get you started:
Har Gow (Shrimp Dumpling, 蝦餃): chunks of shrimp with bamboo shoots in a translucent wrapper.
Siew Mai (燒麥): an open-top dumpling filled with pork and mushroom, and usually topped with fish roe.
Char Siu Bao (BBQ Pork Bun, 叉燒包): fluffy steamed buns filled with saucy Chinese BBQ port.
Cheung Fun (Rice Noodle Rolls, 腸粉): steamed rolled-up thin rice noodles stuffed with various fillings like beef, shrimp, or other ingredients.
Feng Zhua (Chicken's Feet, 鳳爪): deep-fried chicken feet stewed in a special sauce. They may look worrying, but their puffy and melt-in-the-mouth texture will make you love them.
Lo Mai Gai (Sticky Rice Chicken, 糯米雞): sticky glutinous rice, chicken, dried shiitake mushrooms, and some other ingredients steamed in dried lotus leaves.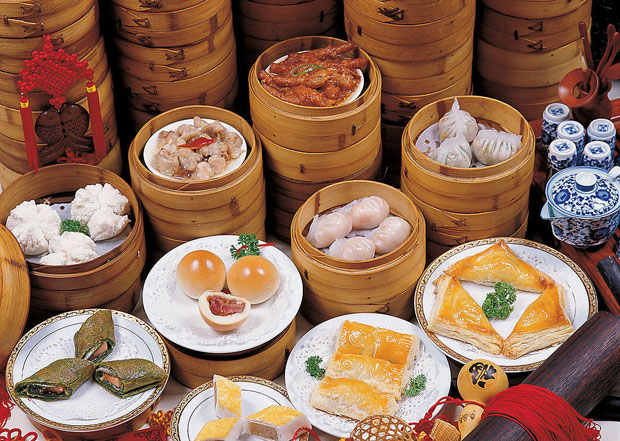 2. Char Siu (BBQ Pork, 叉燒)
Char siu (or spelled cha siu) is Cantonese-style barbecued pork. In Mandarin, it's known as cha shao. Literally meaning "fork roasted", char siu was skewered with long forks and then roasted slowly over a fire in the old days. This classic Cantonese dish can be eaten as an entree, or as an addition to noodles or rice.
To make char siu, pork is first marinated in a sweet barbecue sauce and then roasted. While different cuts of pork can be used to make char siu (like pork neck, pork shoulder, and pork belly), fatty cuts are the best for char siu. The fat on the meat can keep the pork moist, tender, and juicy.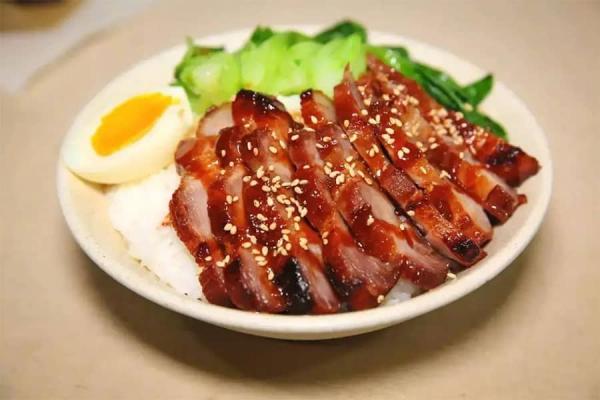 3. Wantan (Wonton, 雲吞)
Wonton looks similar to jiaozi, but it's a different kind of dumpling. The wrappers of wontons are square and thinner. There are many different kinds of wonton in China. Hong Kong-style wontons are usually stuffed with shrimps and minced lean pork. You can order either wontons in soup or wonton noodles at almost any dai pai dong (traditional local food stalls) in Hong Kong.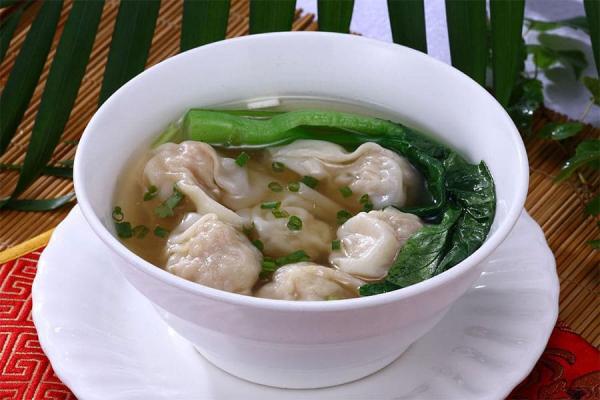 4. Siu Ngoh (Roast Goose, 燒鵝)
Beijing has Peking Roast Duck, while Hong Kong has Roast Goose. Though many people consider roast goose a Hong Kong Chinese food staple, it's a traditional Cantonese roasted meat dish. Siu Ngoh is usually prepared by roasting geese with soy sauce at high temperatures. High-quality roast goose has crisp skin and juicy, soft meat. Famous local roast goose restaurants include Yung Kee (鏞記) and Yue Kee (裕記). While some claim that the New Territories is where you may still find the most authentic roast duck in Hong Kong.
Further Reading: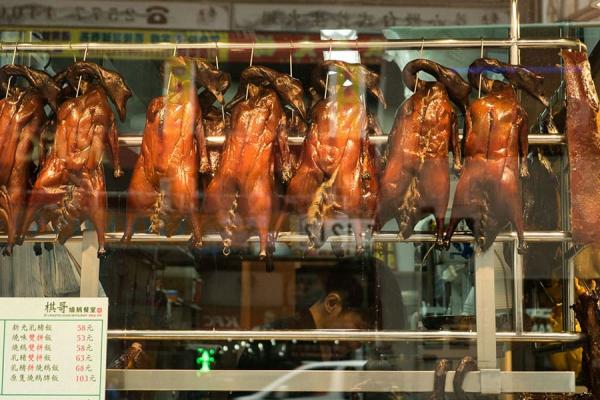 5. Jyu Daan (Fish Ball, 魚蛋)
Fish Balls is one of the most favorite and iconic street food in Hong Kong. This Hong Kong local delicacy is made from fish meat, and usually cooked in hot curry sauce. Hong Kong fish balls are sold on a stick, or in a bowl.
Hong Kong Chinese Food Tour
Hong Kong's cuisine holds the key to traveling there. Our 4-day Hong Kong Culture Tour with Food Tasting will provide you the opportunity to experience some of Hong Kong's highlights and taste Hong Kong's local food.
Or you can find out more about our popular Hong Kong tour itineraries. Still can't find what you're looking for? Our Hong Kong travel experts can help customize an itinerary to match your food tour plans, or whatever you are interested in. Feel free to request a custom tour itinerary to Hong Kong and we'll get back to you within 24 hours.
You May Also Be Interested In:
Leave a Comment