Huai'an – the Fifth UNESCO Creative City of Gastronomy in China
Huai'an – the Fifth UNESCO Creative City of Gastronomy in China
The evolution of Chinese food culture began more than half a million years ago when the Peking man barbecued food over fire. With such a long and profound food history, it is hardly surprising that Huai'an, in Jiangsu Province, was selected by UNESCO as the "Global Creative City Network-Food Capital" on November 9th, 2021, the fifth selected city in China after Chengdu, Shunde, Macau and Yangzhou.
Remember, there are only 36 food capitals selected by UNESCO worldwide. So if your trip to China is guided mostly by your stomach, consider perfecting your China food tour with Huai'an, which is never as famous as Beijing or Shanghai, but packed with delicacies, time-honored restaurants and food stalls, gastronomic scenes, and interesting stories behind the food.
Where is Huai'an & What Makes Huai'an the New Food Capital
As is known to all, Huai'an, located in the north of Jiangsu Province and east of the Jianghuai Plain, was one of the "four metropolises" in ancient China along with Yangzhou, Suzhou and Hangzhou, and also known as "the capital of Grand Canal", and one of the cradles of ancient culture in the Jianghuai River Basin.
Why it is Huai'an that is listed the fifth off China's food capitals? One of the main reasons: it is an important birthplace and inheritance of Huaiyang Cuisine, and has been awarded the title of "Hometown of Huaiyang Cuisine in China".
There is a saying in chef circles: "if you live in Huai'an, it is like you can eat all over the country." This gave birth to Huaian's "specialty": Huaian cook. However, "It is easy to be a scholar, but difficult to be a cook in Huai'an."
For over 2200 years of history, Huai'an has been celebrated for its culinary culture, and now it is named one of the world's capital cities.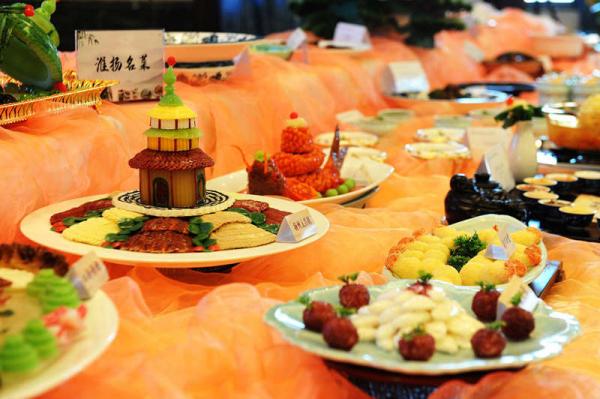 Taste of Huai'an -- Huaiyang Cuisine & What to Eat
Before eating through Huai'an, the new yet old food capital in China, it is better to understand Huaiyang Cuisine a bit first.
Huaiyang cuisine
Huaiyang cuisine was invented in the Spring and Autumn period, popular in Sui and Tang Dynasties and flourished in the Ming and Qing dynasties. Today, Huaiyang Cuisine, Cantonese Cuisine, Sichuan Cuisine, and Shandong cuisine are "the four Great Chinese cuisines".
Huaiyang cuisine pays much attention to the fine cutting skill, and especially known for the melon carving. Designed and cooked with both look and taste in mind, the Huaiyang cuisine dishes usually features delicate, elegant look and mellow taste;
Huaiyang cuisine also make great use of the heat, with stewed food, braised food, simmered food, steamed food, roasted dishes, and stir-fry dishes. Raw materials are mainly aquatic products, which are fresh, mild taste, fresh and slightly sweet. Famous Huaiyang cuisine dishes include stewed crab meat with lion's head, boiled dried silk, three sets of duck, soft deep-fried fish, crystal meat, squirrel mandarin fish, Liangxi crispy eel, etc.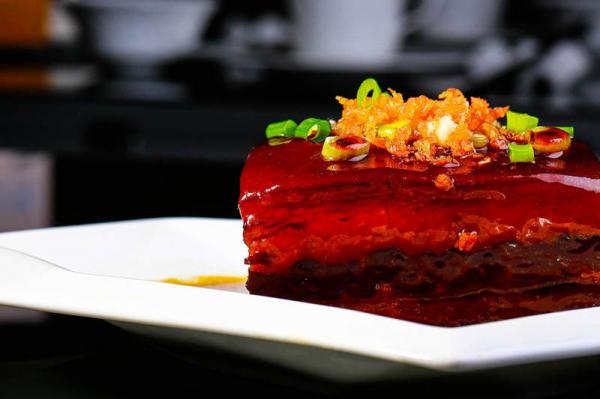 What makes Huaiyang famous in modern times is that it was the benchmark cuisine of "the first banquet" of the funding ceremony of People's Republic of China on October 1, 1949.
Huaiyang cuisine was also served as a sumptuous dish at the 50th anniversary banquet in 1999 and the US President's banquet in 2002.
Most Famous Food in Huai'an
There are more than 1,300 famous dishes in Huai'an, and 298 dishes have been selected as provincial intangible cultural heritage, the largest number in China. To eat like a local in Huai'an, you are suggested to taste not only the signature dishes, but also the street snacks of neighborhood family-run restaurants.
Soft pocket long fish (软兜长鱼) – One of the signature dishes in Huai'an, it is known as "the first dish after the founding of China". Delicious eel cooked in a special method, and ensures the excellence in color, aroma and taste. You won't fail to love this dish unless you don't eat fish or eel.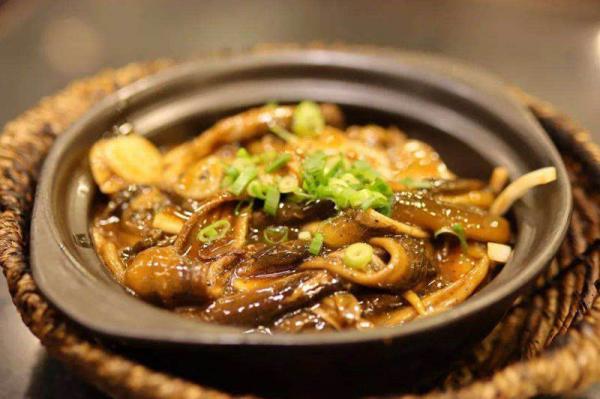 Pingqiao tofu (平桥豆腐) - Pingqiao tofu, known as "the best dish in the world", is not only creative but also delicious. Crucian carp brain raises freshness and works great with the diamond-shaped tofu. After adding diced chicken, mushrooms, and coriander foam, a fragrant and delicious dish is done.
Wenlou soup steam bun (文楼汤包) – You can find soup steam bun in many places of China, but Wenlou soup steam bun is a specialty of Huaian cuisine. The wrapper is big and thin, yet does not leak. With one bit, you have one mouthful of soup. The crab roe soup steam bun is especially delicious and a must-eat in Huai'an.
Live fish Fried dumpling (活鱼锅贴) - A unique dish of Hua'ian cuisine, this dish is made of small fish from Hongze Lake and crispy fried wrappers. A bit of small fish, and a bit of crispy wrapper, and both your stomach and mouth are satisfied.
Lianshui Chicken Cake (涟水鸡糕) - When taking about "gao" (cake), many people think it is a sweet cake, but it is actually a snack made of chicken, eggs and pork.
Qingong meatballs (钦工肉圆) – Another famous traditional dish of Huaian cuisine. The handmade meatball is fresh and tender, and braised in clear soup, which arouses the most primitive flavor of meatballs. In winter, you feel happy and warm to eat a bowl of meatballs.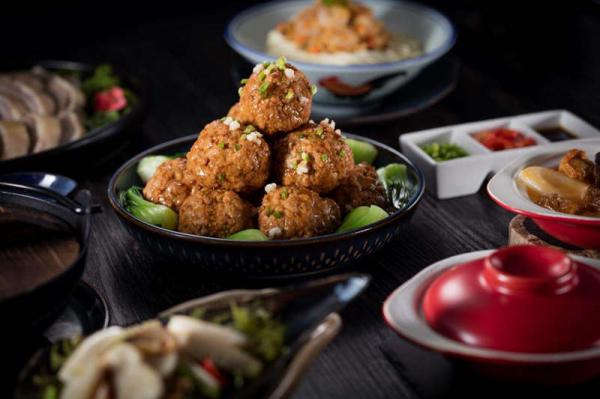 Skin tripe (皮肚) - Skin tripe is the first course in Huaian folk banquet. After complicated cooking, various ingredients are finally stewed into the characteristic skin tripe. In Huai 'an, it is not only a delicacy, but also a must-dish for a family reunion.
Drum Tower Chasan (鼓楼茶馓) – It is highly recommended to eat Drum Tower chasan, which is fried in sesame oil and tastes delicious and crisp, after enjoying a feast of Huai'an food.
Beyond Eating -- What to See in Huai'an
Of course, there's not only food. The food capital Huai'an itself is a very attractive old historical city. The city used to be the water transport hub, salt transport hub, and home to the water transport governor's office.
Although two thousand years have passed, Huai'an's historical heritage and charm remain intact. In Huai'an city, rivers and lakes crisscross, water network crisscross, nine rivers across the formation of waterways one after another. In addition, there is Hongze Lake, one of the five major freshwater lakes in China. Other lakes include Baima Lake, Baoying Lake, and Gaoyou Lake that connect the city, and make the city beautiful and elegant.
Scenic areas and historical sites to visit in Huai'an include:
Tieshan Temple
When traveling In Huai'an, you should not miss Ttieshan Temple that is surrounded by mountains, green shade and clear lake. The quiet environment makes people linger on and forget to return. Here, you can not only enjoy the unique scenery of nature, but also embrace the history and culture.
Hexia Old Town
Hexia ancient town is one of the core historical and cultural protection areas of Huai'an. There were 67metropolitan graduates, 123 provincial graduates and 12 members of the Imperial Academy, so it is called "hometown of scholar". Old tiled eaves, mottled white walls and winding paths all veil the profound history of the town. >> Also read: Top 10 Ancient Towns of China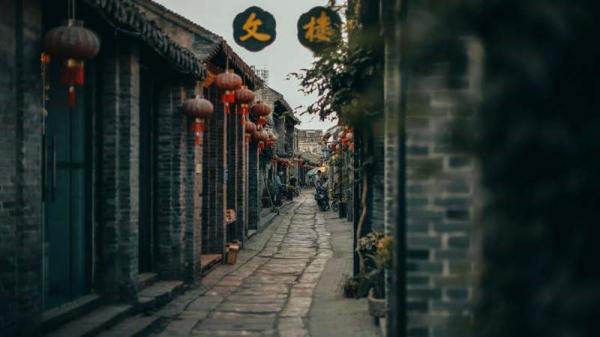 Zhenhuai Tower
Huai'an used to "choked the north of the river, and was the hub of the north-south traffic channel" so it come with this magnificent Zhenhuai Tower, which stands still and guards Huai'an.
Huaian Government Agency
A symbol of Huaian's historical status and witness, it witnessed the prosperity of Huai'an.
Qing Yan Garden
It is the only well-preserved governmental garden in the history of water control and water transport in China, with the name of "the first Garden in Jianghuai". It is also the most representative classical garden in northern Jiangsu, with ancient style and old trees.
When you come to Huai'an, you will find that it is not only worthy of the "world food capital", but also a low-key and charming city. It may not be as famous as Chengdu, Shunde and Macao, but it has its own cultural heritage.
If you want to go to a historical old city with delicious food, you must not miss Huai'an! And you can always contact us to customize for you a China history and food tour to Huai'an.
Further reading:
Leave a Comment