Top 10 Most Popular Food to Eat in Guilin: Mifen, Yangshuo Beer Fish
Top 10 Most Popular Food to Eat in Guilin: Mifen, Yangshuo Beer Fish
Besides the limestone peaks and crystal rivers, Guilin's local cuisine is quite special, blending local minority cuisine, Hunan Cuisine and Canton Cuisine. From tens of classic dishes to the many flavors of breakfast and night snack, Guilin offers numerous gastronomic delights, and is a real paradise for foodies. Enjoy an authentic, mouth-watering Guilin food tour, you should not miss the top 10 most popular food to eat in Guilin, including rice noodles, Yangshuo beer fish, oil tea, stuffed dishes, Liquan Beer...
Recommended China Food Tours to Guilin:
3-day Guilin Yangshuo Food Adventure
15-day China Cooking & Foodie Tour
Guilin Rice Noodles/Mifen (桂林米粉)
The most popular food, Guilin Rice Noodles have been the local breakfast staple for a history of 2000+ years. The rice noodles are made from oil and rice flour, cooked in broth and served with a bowl of soup made from pork, beef, garlic, peanuts, pepper and radishes. If diner don't like spicy food, just simply not add pepper.
The gravy, made of a dozen spices, such as grass fruit, cinnamon, star anise, ginger, white kou, citronella, tangerine peel, and bay leaves, is the essence of Guilin Rice Noodles, and determines its final flavor.
There are round noodles and flat noodles, two different shapes, and dried rice noodles (most authentic), soup rice noodles, and cold rice noodles for summer, prepared in different ways.
Guilin noodle is a staple of Guilin people's diet and is a wonderful and cheap dish, priced at only RMB5-10 yuan (around one US dollar). During meal times the many small rice noodle restaurants are always packed with diners and such little stores can be found within 100m of any town or city area in Guilin.
Just be noted that most the small rice noodle restaurants are open from early morning till noon. But you can always find one even in the midnight.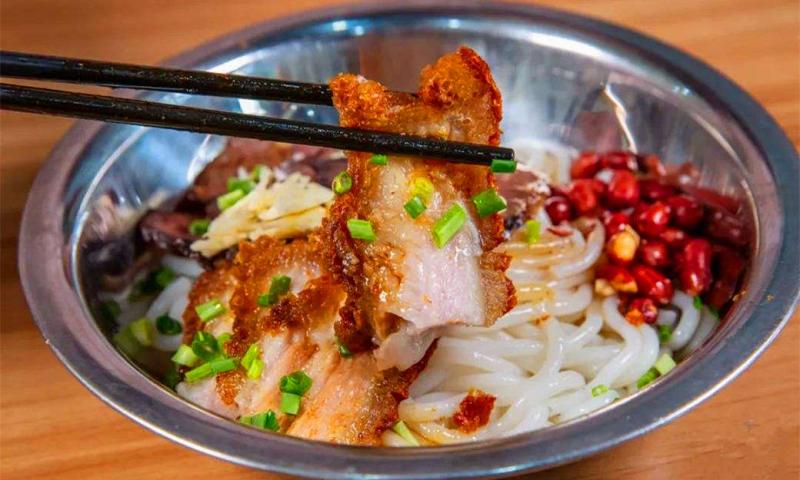 Yangshuo Beer Fish (阳朔啤酒鱼)
Another must-eat food in Guilin, Yangshuo Beer Fish is the most famous dish in Yangshuo. It is made from fresh caught Li River carp. The fresh fish is fried in a wok along with beer, hot and green peppers, garlic, onions, celery, tomatoes, soy, and sugar. Most of the time the fish is served whole containing bones, but the dish tastes delicious. Visitors are amazed at how delicious the fish's skin is and how fresh and tender the meat is.
Today, you can find beer fish served at almost all restaurants in Yangshuo, let alone the famous West Street.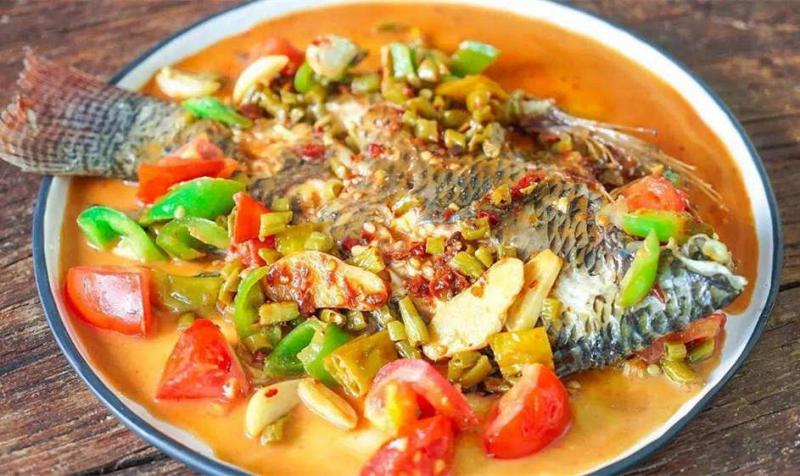 Lipu Taro Looped Meat (荔浦芋头)
Lipu Taro and Pork Loaf is a popular dish in traditional Guilin banquets, which is served at weddings, festivals and other celebrations. The dish is made of Taro from Lipo county combined with streaky pork, read pepper, garlic spread, fermented beacured, wine, honey and many other seasonings. The meat, fat with skin, is first cooked then steamed with the tarom pepper and other comdiments. The ready-made dish is golden in color and aromatic. The taro's flavor and the pork's freshness blend perfectly to create a wonderful dish. It is said that the dish can eliminate heat and purge fire, as well as soften complexion. Almost every restaurants in Guilin serve this dish.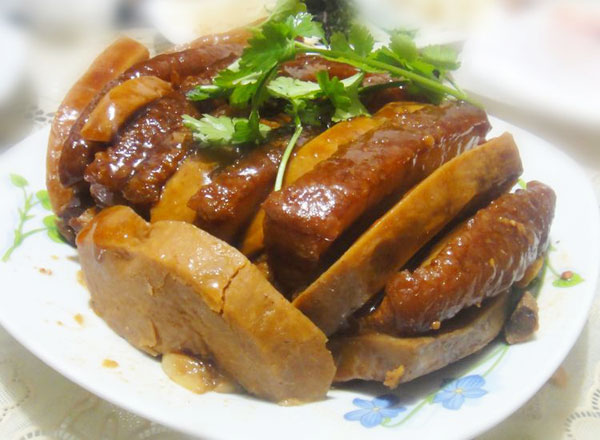 Oil Tea (油茶)
Oil Tea is a distinctive drink, and also a popular food in Guilin these days, renowned for its waking up effects. The tea is prepared by frying tea leaves with sevearl ingredients and then adding water; it is of color of greeish grey and always served with puffed rice, cereal balls, fried dough sticks and peanuts, etc. The most popular old tea is Gongcheng oil-tea from the county, which is named after a county of Guilin.
While many seniors have oil tea, with some steam bun, fried rice noodles, or local cake, for breakfast, most locals would like to have lunch or dinner at oil tea restaurants, where all kinds of local home style dishes are served, delicious and at very reasonable prices.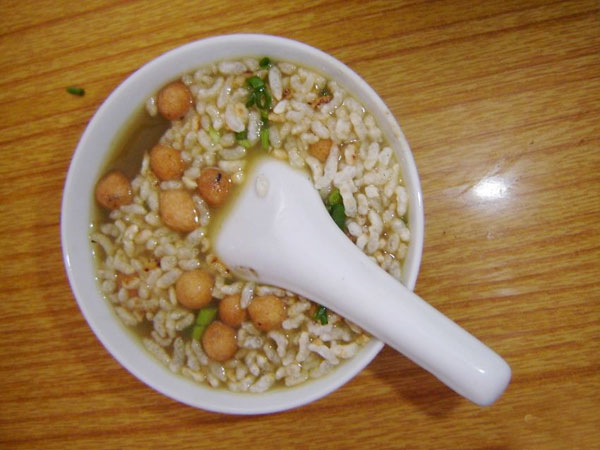 Guilin Sticky Rice Ball
Of all the popular food in Guilin, the sticky rice ball is humble, and not as famous as rice noodles. But all local people, from the school kids to office worker, love it, for breakfast or snack. The sticky rice ball is usually served at stall. Every vendor's side dishes for sticky rice ball are pretty much the same -- the delicate bean paste is a must, the deep-fried dough stick has been replaced by a crispy fritter, there are also all kinds of pickles. While beef gravy is rarely used, each venor's chili source is the key to a sticky rice ball, and has become a secret ingredient.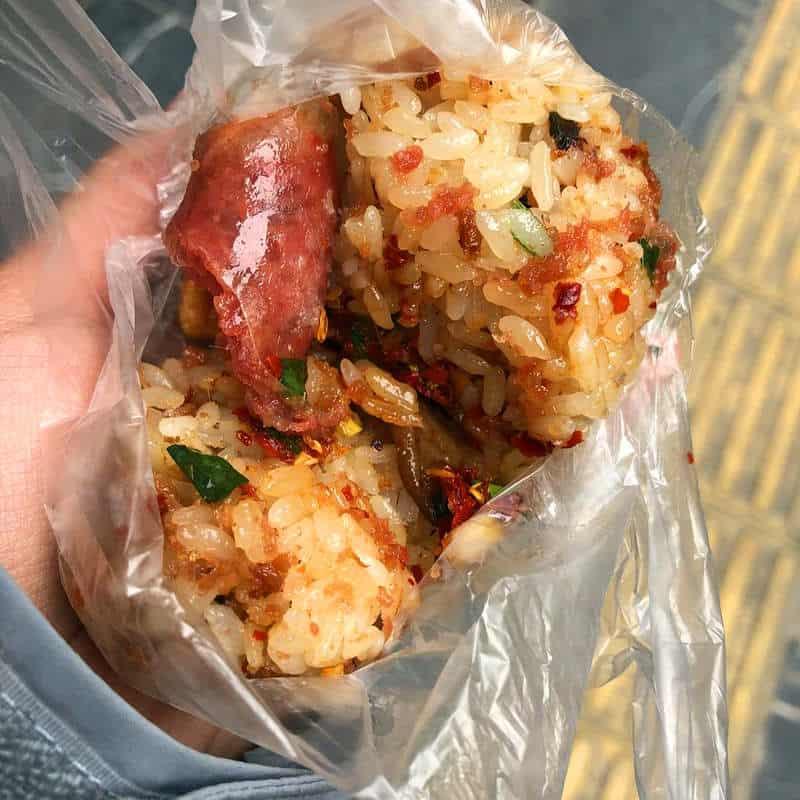 Stir-fry Li River Shrimp
Take a sightseeing and culinary journey through Guilin, make sure you enjoy the Li River cruise, and taste the the fresh aquatic products from the river, including both the carp and shrimp. The Li River shrimp is not big, but tastes delicious. To cook this classic and popular dish in Guilin, Guilin Sanhua Wine is a must. Fresh shrimp is stir-fried with a bit Guilin Sanhua wine, as well as green pepper and garlic -- you can't fail to love it!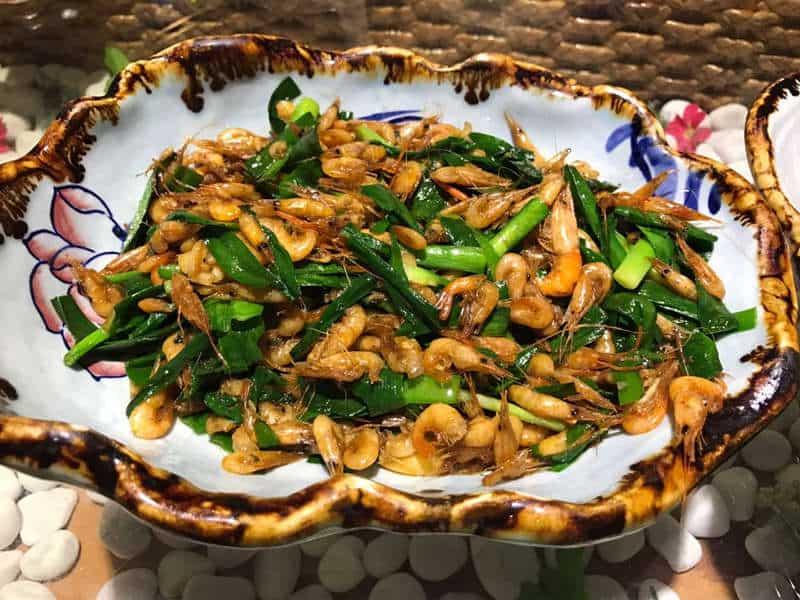 The 18 Stuffed Dishes in Guilin
The 18 stuffed dishes is a local specialty and also one of the most famous food in Guilin. 18 different raw material are used as the cover, whiles meat, eggs or tofu are usually the filling. The stuffed dishes can be steamed, stewed, fried or cooked in hot pot. Originally 18 dishes, there are now more than 30 varieties, including the popular stuffed tofu, stuffed egg, stuffed eggplant, stuffed bitter gourd, and stuffed river snail. Simply order the ones that you prefer when traveling in Guilin.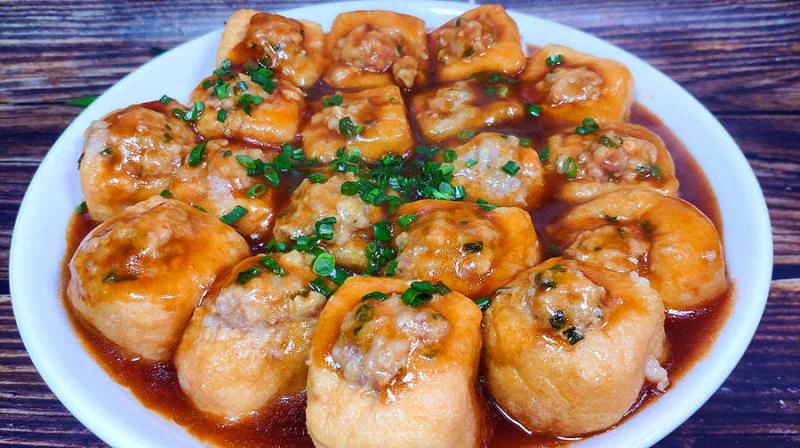 A Nun Plain Noodles
It mainly uses noodles, soybean sprouts, bean curd bamboo and other ingredients as raw materials. When making soup, first make the soup with soybean sprouts, straw mushrooms, mushroom legs, winter bamboo shoots and other ingredients. After cook noodles and put it into the bowl, and cover with straw mushrooms, vegetarian ham and bean curd bamboo and other side dishes. Finally, drop sesame oil, sprinkle with ground peanuts and pepper. The finished product is light and delicious, making it an affordable and popular local pasta dish in Guilin.
You may also be interested in: Top 10 Chinese Noodles


Braised Old Duck with Ginkgo Fruit
It has to be the aged local duck, with tight meat, and rich in nutrition. Ginkgo is the fruit of the ginkgo tree, which is widely growing in Xing'an, Lingchuan area of Guilin.
The old duck soup stewed with ginkgo fruit and other food ingredients, is bitter in taste, sweet in fruit, nutritious and appetizing.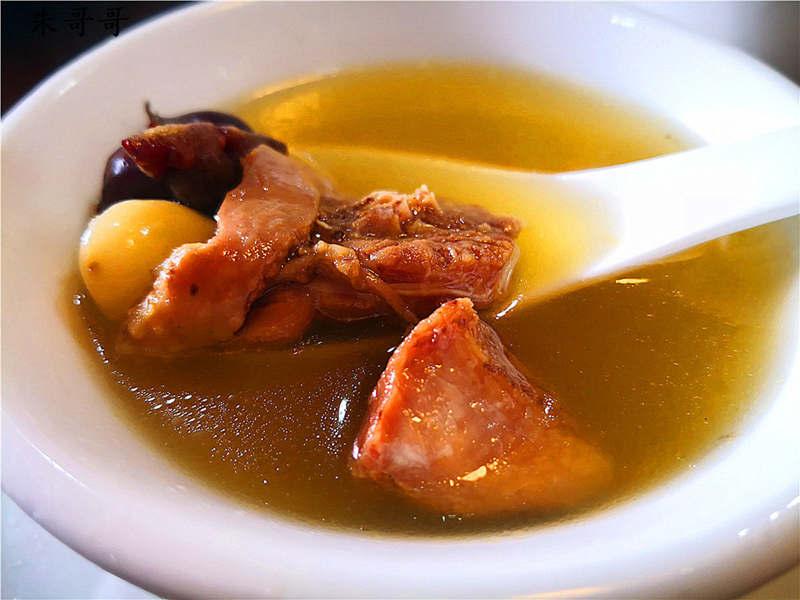 Local Baba/Cake
Water chestnut cake - a local specialty snack and a popular street food, with rice flour as the main ingredient. The rice flour is packed into a wooden mold shaped like a horse's hoof, and the center is wrapped with brown sugar powder, water chestnut starch or sesame powder.
Boat cake - The glutinous rice is first soaked and swollen, and then beaten into semi-finished products by artificial stone hammers. The green garlic leaf juice, lemongrass leaf juice and Lipu taro grains are added into the glutinous rice and mixed evenly. After spreading and flattening on the cutting board, put it into a bamboo cage and steam it. After cooling it, slice it into a plate. It can be eaten directly or fried in oil until it turns brown.
Guilin sponge cake - Mix the ground glutinous rice with brown sugar water, then sprinkle the semi-dry and semi-wet glutinous rice flour into a steamer and steam it. The soft sponge cake is favored by seniors and children, but is not commonly seen in the daily life, except on on festive occasions.
Aiye baba - Fragrant artemisia Baba, is a traditional snack usually eaten on Tomb-sweeping Day and Cold Food Festival.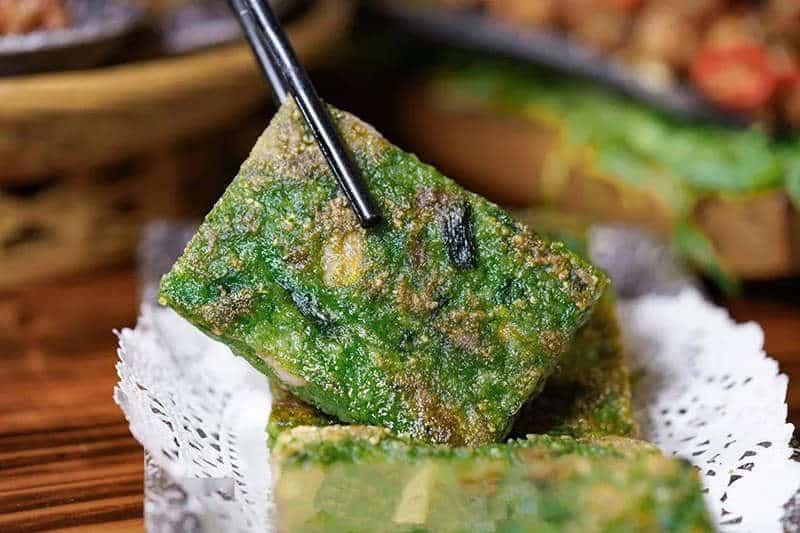 Relish the sights and food in Guilin, as well as the local beer, named Liquan Beer. Bon appetit!
Further reading:
Leave a Comment